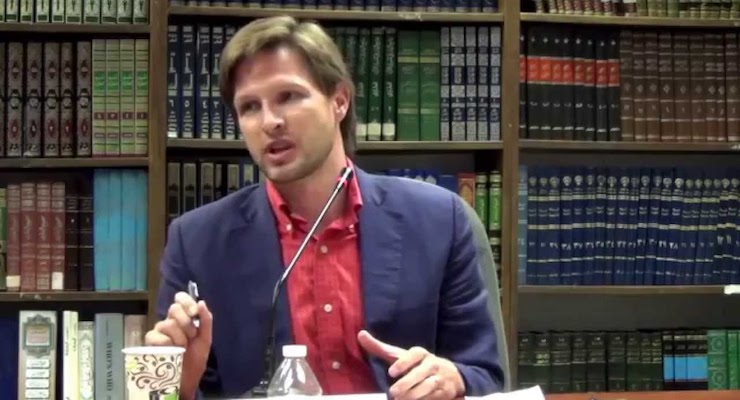 Jonathan Brown, Professor of Islamic Studies at Georgetown University, defended and justified rape and slavery under Sharia law during a lecture to an Islamist group. As reported by The Clarion Project, Professor Brown made the comments during a lecture to the International Institute of Islamic Thought, a grouped with ties to the Muslim-Brotherhood.
"It's not immoral for one human to own another human," Brown, a convert to Islam said during the lecture. "The Prophet of God [Mohammed] had slaves … There's no denying that. Was he—are you more morally mature than the Prophet of God? No you're not."
Robert Spencer, known for his work at JihadWatch.org, recently challenged Brown to a debate over his less-than moderate views. The professor declined, insinuating that the anti-Islamic supremacist activist wasn't worth debating. Yet, he told the International Institute of Islamic Thought he doesn't "think it's morally evil to own somebody because we own lots of people all around us, and we're owned by people."
In fact, the immorality of slavery doesn't actually exist according to Brown, at least not as it is generally thought of in the West.
"There is no such thing as slavery, as a category, as a conceptual category that exists throughout space and time trans-historically," he said. "Slavery cannot just be treated as a moral evil in and of itself because slavery doesn't mean anything."
Brown argued Islamic slavery was not comparable to slavery practiced in the U.S.-or, as immoral even if it was immoral, at all–because it was not racially motivated. Putting aside the fact the slave might disagree, the statement is factually inaccurate. The Arab slave trade in Africans is well-documented and disputes Professor Brown's revisionist version of history.
Further, abeed, the Arabic word for slaves, is in fact a racial slur still widely used to refer to black people even today.
This isn't just some teacher's aide. Professor Brown is the Alwaleed bin Talal Chair of Islamic Civilization in the School of Foreign Service at Georgetown. He is also the Director of the Alwaleed bin Talal Center for Muslim Christian Understanding, according to the university's website.
On rape, or "nonconsensual sex" as he called it, is basically an legal impossibility because consent "isn't necessary."
"Consent isn't necessary for lawful sex," he said, adding that it is really the fault of western society for being "obsessed with the idea of autonomy and consent."