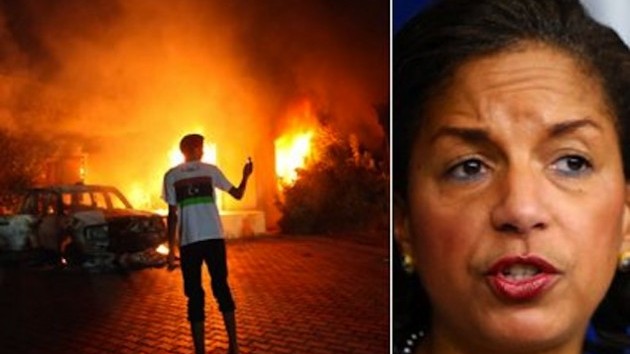 Newly released emails on the Benghazi terror attack show a senior White House advisor played a direct and pivotal role in prepping former U.N. ambassador Susan Rice for her despicable Sunday show appearances on ABC, CBS, NBC, Fox News and CNN. Rice either knowingly lied or was used by the White House as a patsy when she blamed the Benghazi attack on an Internet video.
The conservative watchdog group, Judicial Watch, obtained more than 100 pages of documents as result of a June 21, 2013, Freedom of Information Act (FOIA) lawsuit filed against the Department of State (Judicial Watch v. U.S. Department of State (No. 1:13-cv-00951)).
On September 14, 2012, an email from Ben Rhodes, who was the deputy national security adviser for strategic communications and assistant to President Obama, had a subject line: "RE: PREP Call with Susan: Saturday at 4:00 pm ET." It was sent to a dozen members of the Obama administration's inner circle, including Press Secretary Jay Carney. Deputy Press Secretary Joshua Earnest, then-White House Communications Director Dan Pfeiffer, then-White House Deputy Communications Director Jennifer Palmieri, then-National Security Council Director of Communications Erin Pelton, Special Assistant to the Press Secretary Howli Ledbetter and then-White House Senior Advisor and political strategist David Plouffe, all received the email.
In the email, Rhodes says the game plan was to stress the anti-Islam Internet video, but insinuates the strategy will be to obfuscate differences between the Benghazi attack and what were widespread protests across the Middle East directly related to foreign policy failures following negative developments on the botched Arab Spring.
The email specifically lists the following two goals, as well as several others:
"To underscore that these protests are rooted in an Internet video, and not a broader failure of policy."
"To reinforce the President and Administration's strength and steadiness in dealing with difficult challenges."
What follows in the email is the line repeatedly returned to by administration officials when they knew that the attack had nothing to do with the video. "We find it disgusting and reprehensible. But there is absolutely no justification at all for responding to this movie with violence," the email stated.
"The goal of the White House was to do one thing primarily, which was to make the president look good. Blame it on the video and not [the] president's policies," Judicial Watch President Tom Fitton said.
The Rhodes email was conveniently omitted from the 100 pages of emails released by the Obama administration last May, which they offered only after Republicans held up the confirmation of John Brennan for CIA director.
The former head of AFRICOM, General Carter Ham, told the House Armed Services Committee in January that the White House situation room was alerted immediately after the attack.
"The attack started at 9:42. I don It see any mention here about a demonstration, just simply an attack. Do you know if there was some kind of demonstration before this attack?" asked Chairman Martha Roby (R-AL).
"I am not aware of one, sir. It became pretty apparent to me, and I think to most at Africa Command pretty shortly after this attack began, that this was an attack," General Ham responded.
In congressional testimony in early April, former deputy CIA director Michael Morell threw Susan Rice under the bus, claiming it was her during her Sunday show appearances who linked the video to the Benghazi attack. Morell said the video was not part of the CIA analysis.
"My reaction was two-fold," Morell told members of the House Intelligence Committee, regarding her appearances. "One was that what she said about the attacks evolving spontaneously from a protest was exactly what the talking points said, and it was exactly what the intelligence community analysts believed. When she talked about the video, my reaction was, that's not something that the analysts have attributed this attack to."
Yet, documents obtained by Judicial Watch confirmed that CIA talking points, which were prepared for Congress and likely used by Rice on "Face the Nation" and four additional Sunday talk shows on September 16, had in fact been heavily edited by then-CIA deputy director Mike Morell, who did so with a "heavy hand." According to one email:
The first draft apparently seemed unsuitable….because they seemed to encourage the reader to infer incorrectly that the CIA had warned about a specific attack on our embassy. On the SVTS, Morell noted that these points were not good and he had taken a heavy hand to editing them. He noted that he would be happy to work with [then deputy chief of staff to Hillary Clinton]] Jake Sullivan and Rhodes to develop appropriate talking points.
Monday, three top Senate Republicans sent letters to the House and Senate foreign affairs committees requesting they demand the administration to explain who briefed Rice in advance of the Sunday talk shows and whether State Department or White House personnel were involved.
"How could former Ambassador to the United Nations Susan Rice, during the five Sunday talk shows on September 16, 2012, claim that the attacks on our compounds were caused by a hateful video when Mr. Morell testified that the CIA never mentioned the video as a causal factor," the letter from Sens. Lindsey Graham (SC), Kelly Ayotte (NH) and John McCain (AZ) stated.
People's Pundit Daily has requested a response from the White House over whether or not Rhodes personally prepped Rice for the Sunday shows. We have also requested more information regarding two key recipients of the emails, Jay Carney and David Plouffe. Both were intimately involved with perpetrating this false story, as well as openly hostile to us and other nationwide news organizations when pressed on details that didn't fit their narrative.
Meanwhile, the newly released emails also reveal that on Sept. 27, 2012, a Fox News report that was titled "US officials knew Libya attack was terrorism within 24 hours, sources confirm," was passed around to all senior players of the administration. The comments, however, were redacted, claiming "personal privacy information."
"Now we know the Obama White House's chief concern about the Benghazi attack was making sure that President Obama looked good," said Judicial Watch President Tom Fitton. "And these documents undermine the Obama administration's narrative that it thought the Benghazi attack had something to do with protests or an Internet video. Given the explosive material in these documents, it is no surprise that we had to go to federal court to pry them loose from the Obama State Department."