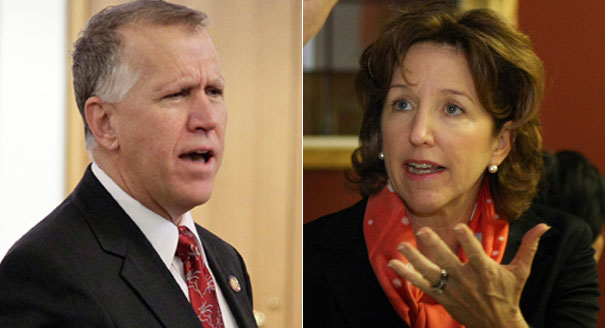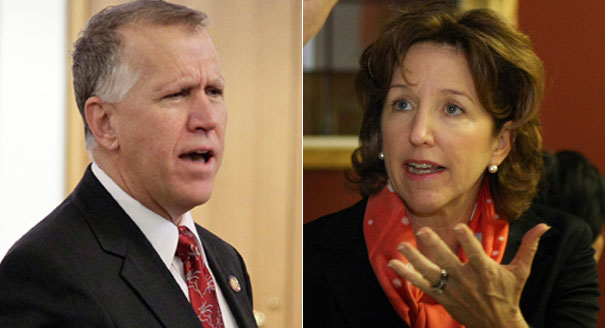 Primary season really got started Tuesday when voters went to the polls to choose the Republican nominee in the closely-watched North Carolina Senate race, a state that's rightfully a top target for the Republicans in their goal to retake control of the U.S. Senate. State House Speaker Thom Tillis was trying to avoid a runoff by beating back Greg Brannon, a tea party-libertarian favorite, and Charlotte pastor Mark Harris. Tillis was successful, and as the winner will take on Sen. Kay Hagan, one of the country's most vulnerable Senate Democrats.
With 50 percent percent of the precincts reporting, Tillis took 45.16 percent of the vote (125,907 votes), with Greg Brannon running second at 27.80 percent (77,506 votes). Brannon was backed by libertarian-leaning Kentucky Senator Rand Paul, who made a last-minute push in the state running up to the primary. Paul spoke at a rally on Monday, which was a well-attended rally outside the NASCAR Hall of Fame in Charlotte, NC, slinging words like "Leviathan" to the crowd.
"The status quo has gotten too strong in Washington, D.C. The Leviathan has gotten too large. … Send us a dragon slayer," Paul said.
Meanwhile, a robocall recorded by former Arkansas Gov. Mike Huckabee for the socially conservative candidate, Mark Harris, was reported to have reached nearly 300,000 registered Republicans between Saturday and Tuesday. But, in the end, robocalls are a technique of the past. Tillis, enjoying the backing of the Republican Establishment, was able to tap new technologies acquired by the party attempting to close the tech-gap with the Democrats.
Further, American Crossroads and the U.S. Chamber of Commerce combined spent more than $10 million on behalf of Tillis, which is on top of the more than $2 million his campaign spent in the cycle thus far. He was also been endorsed by former GOP presidential candidate Mitt Romney and likely 2016 Establishment contender, former Florida Gov. Jeb Bush. That may perhaps have something to do with how and why Tillis performed well in districts pundits didn't expect him to fair so strong in.
Tillis will now go on to face vulnerable incumbent Democrat Senator Kay Hagan in November, which has already achieved the distinction of being the single-most expensive race this cycle. The North Carolina Senate race is currently rated a "Toss-UP" on our 2014 Senate Map Predictions.
Statement from National Republican Senatorial Committee Chairman Jerry Moran (R-KS) on Thom Tillis' victory tonight in North Carolina:
"Tonight voters recognized that Thom Tillis is a strong leader with a history of getting things done for North Carolina, a strong contrast with Kay Hagan who, beyond ObamaCare and being a rubber stamp for Barack Obama, has little to show for her time in Washington," the NRSC said in a statement via email.
"Kay Hagan promised to be an independent voice for North Carolina, but instead has voted with President Obama an astounding 96 percent of the time. It's far from the only promise that Kay Hagan broke to voters in North Carolina. By November, this race will be a clear contrast between an effective candidate versus an ineffective Senator."
The North Carolina Senate race is currently rated a "Toss-UP" on our 2014 Senate Map Predictions.