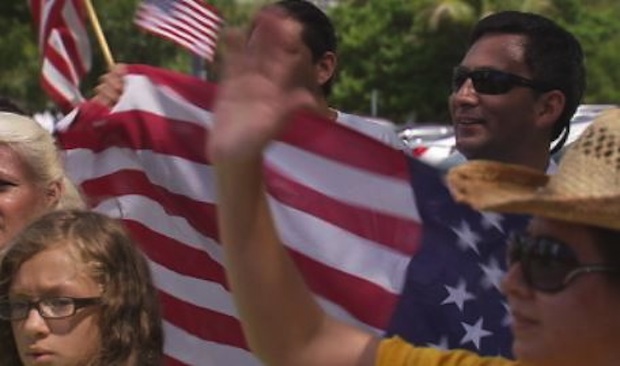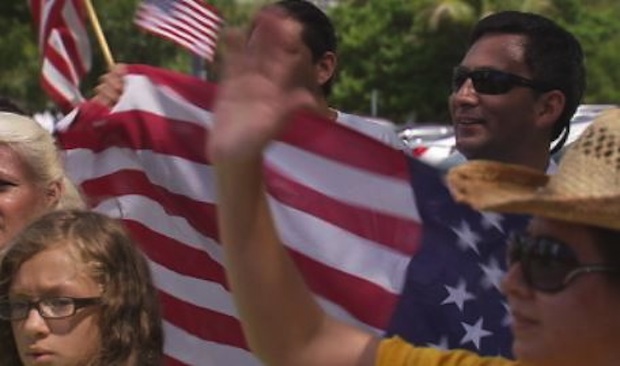 There is a renewed push in Florida to allow illegals to obtain drivers licenses by the Living with Angels and other immigration advocacy groups. The Sarasota-based group enjoyed free publicity from a sympathetic media Saturday with a noisy protest along U.S. 41.
"Not a lot of people in Florida are legal, so if you're not legal you can't have a driver's license," Paula Rincon, a demonstrator with the group told FOX 13. "There are at least 12 states in the United States that have already approved this law. We want to be part of that group of states."
Except, illegal immigrants can obtain drivers licenses in 11 states and the District of Columbia, and the reason is simple. The idea of allowing illegals to obtain drivers licenses is not popular with the vast majority of the American people.
Following the decision by Gov. Jerry Brown to make California biggest state to pass legislation that allows driver's licenses for illegal immigrants, a survey found that 68 percent of Americans are opposed to the idea, which is why Gov. Rick Scott vetoed a similar bill already.
Last year, the Florida legislature passed a bill that would allow the children of illegal immigrants to obtain licenses to drive, but Gov. Scott vetoed it citing current Sunshine State law. In Florida, immigrants with federal employment authorization cards are already eligible for temporary licenses, and Scott sides with the American people in his belief that the program is already generous.
While liberal groups are hoping to use immigration as one of the issues to distract away from the larger, rather grim economic and foreign policy pictures, the current border crisis is likely to increase outrage in the public. If it does, as the former House Majority Leader Eric Cantor who was recently defeated by Dave Brat could attest, the push is likely to back-fire on the Democratic Party .
"In fact, more Americans think immigration should be decreased than increased, and by a nearly two-to-one margin, 41 percent vs. 22 percent," said Lydia Saad of Gallup. "Brat's case may have been a fairly easy one to make," she added, as "fewer than one in four Americans favor increased immigration."
A new survey found the American people agree, as nearly half of U.S. voters believe the Obama administration has caused the wave of illegal immigrants at the border, and most Americans want them sent back home immediately.
Ironically, demonstrators at the protest were frequently citing economic benefits of encouraging policies such as this for illegals. In reality, the serious economists have argued the increase of low-skilled workers will drive down labor demands leading to lower wages for American workers.
"The insurance companies can sell insurance," said Humberto Iberico, another demonstrator at the loud protest. "More car payments for all the companies. More sales for all the companies."