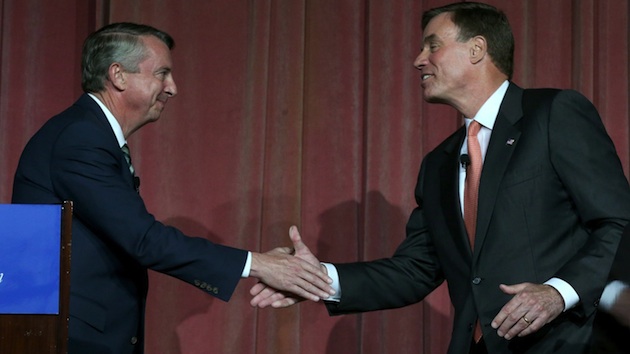 Fewer than 800 people tuned into the Virginia Senate debate Saturday, which was actually hosted in West Virginia by Virginia Bar Association and shown on PBS's live stream. In fact, not one of the Old Dominion's PBS affiliates will even air the debate in full. That's good news for incumbent Sen. Mark Warner (D-VA), who performed less-than ideal.
Warner debated Ed Gillespie, a former state chairman of the Republican Party of Virginia and Republican National Committee chairman. Gillespie, who is very telegenic and folksy, came across strong in the debate against an incumbent who was on the defense, seemed irritated for even having to answer attacks from a challenger, and several times appeared ignorant to his opponent's positions.
One of the most awkward instances was the exchange over Gillespie's non-existent support for a personhood amendment. Warner completely overreached when he claimed without direct evidence that Gillespie supports so-called "Personhood" legislation. "I respect women's reproductive health. He would vote to repeal Roe v. Wade," also stated.
"This is an area where you're making up my view," Gillespie said, challenging Warner to offer evidence to support his claim. "When did I support a personhood amendment?", Gillespie asked. Warner had no real answer, save for "you'll get the documentation for that."
When Gillespie attacked the senator for voting 97 percent of the time with President Obama, Warner fired back at Gillespie for being "a cheerleader for the Bush-Cheney economic policy," which put "two wars on a credit card." But Warner seemed confused and agitated in his closing, adding "you know so I don't know" at the end of his attack.
In Virginia, ObamaCare is deeply unpopular. It was at the time Warner voted for it against the wishes of the people of Virginia and remains unpopular today. Warner said he supports efforts to reform the law, not repeal it. Except, Gillespie is in favor of a repeal and replace strategy, though it didn't appear Warner knew his opponents position on ObamaCare, the paramount issue of the campaign.
The single biggest vulnerability Gillespie has is the time he spent as a lobbyist. "Having advised private sector enterprises on how to get things done, with bi-partisan support can actually help me to be an effective senator," Gillespie said in response to moderator Judy Woodruff's question. "I think it can actually help me stand up to the special interest groups" and party leaders, Gillespie added.
Warner responded by saying it's not bad to be a lobbyist per se, but "who you lobby for."
The Virginia Senate race remains "Likely Republican" on PPD's 2014 Senate Map Predications model, though admittedly, that rating insinuates a fake sense of security for Warner's seat. Gillespie concluded back in January that the race was winnable, and our analysis concurs. But public polling, which is early and almost certainly overstating Warner's lead, shows Warner is till personally popular.
Gillespie will have enough money to compete, though not enough as Warner, who is loaded himself and is known to self-fund. However, whether Warner becomes more vulnerable will rely upon the natioal political environment for Democrats, as a whole, and the polling trend mirrors where we see this race, at least for now. I say trend cautiously, as both another notable Virginia-based pundit and Eric Cantor thought they saw a trend, as well.