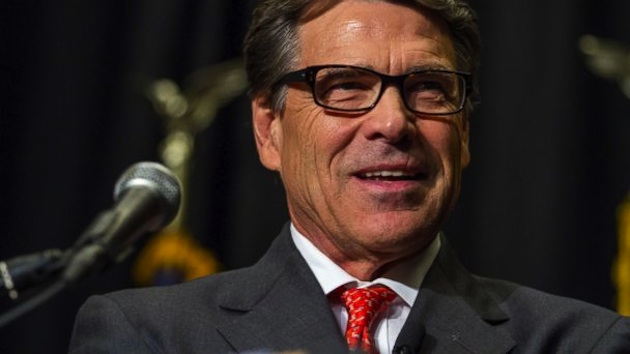 Texas Gov. Rick Perry was indicted late Friday on charges he allegedly abused his veto power, but details of the indictment are leading some to question whether this is all a political witch hunt.
"This clearly represents political abuse of the court system and there is no legal basis in this decision," Perry's defense attorney David L. Botsford said in a statement. Botsford said he was "outraged and appalled" at the decision.
Perry, a popular governor who has been in office since 2000 and is already the longest-serving governor in Texas history, is also now the first Texas governor to be indicted in nearly a century. An Austin grand jury indicted the governor on felony counts of abuse of official capacity and coercion of a public servant. The maximum punishment on the first charge is five to 99 years in prison, and two to 10 years on the second.
The governor vetoed $7.5 million in funding over two years for the so-called public integrity unit, which is run by Travis County District Attorney Rosemary Lehmberg, an outspoken Democrat and known political enemy of Gov. Rick Perry. Lehmberg heads up the public integrity unit, which investigates statewide allegations of corruption and political wrongdoing. Perry repeatedly and publicly said he wouldn't allow Texas to fund the unit while someone like Lehmberg, a figures whose character is very much in question, remained in charge.
Texas Sen. Ted Cruz said the indictment was "highly-questionable" and pointed out that the Travis County District Attorney's Office that indicted Perry has a "sad history" of engaging in politically-motivated prosecutions. Her office is the same office that indicted U.S. Republican Rep. Tom Delay as part of a finance probe, which was later vacated. Former Texas Sen. Kay Bailey Hutchison was indicted by this office three times, and each time she was acquitted.
Perry had called on Lehmberg to resign after she was arrested for drinking and driving and pleaded guilty in April 2013. When Lehmberg was pulled over by the police, she was weaving in-and-out of the bicycle lane while drinking from an open vodka bottle police found in the front seat.
A video recording made at the jail shows Lehmberg spitting and shouting at staffers, demanding they call the sheriff directly, who she presumed would pull strings and get her off the charges. She is seen kicking the door of her cell and sticking her tongue out at police officers. Court records obtained by PPD show Lehmberg's blood-alcohol level was nearly three times the legal limit for driving.
Pressure from both sides of the aisle was building on Lehmberg to resign. Gov. Perry said the integrity of the entire public integrity unit was compromised under her leadership and, unless she resigned, he would veto state funding. Lehmberg didn't even serve half of her 45-day jail sentence and refused to resign her office.
After Lehmberg refused to resign, Gov. Perry used his legitimate line-item veto power to remove the funding from the state budget, as he previously stated he would.
So, if no one disputes that Gov. Perry is legally entrusted the power to veto measures approved by the Texas State Legislature, including part or all of the state budget, then how did this indictment come down?
The liberal so-called government watchdog group, Texans for Public Justice, filed an ethics complaint accusing the governor of coercion. They said he threatened to use his veto before actually doing so in an attempt to pressure Lehmberg to quit.
The indictment came down late Friday, after a special prosecutor spent months calling witnesses and presenting evidence they say corroborates the liberal group's complaint. Perry was never called to testify, but several top aides to Perry appeared before grand jurors in Austin, including his deputy chief of staff, legislative director and general counsel, all of whom testified that the governor did not break any laws. Mary Anne Wiley, general counsel for Perry, said in a statement Friday evening that the governor's actions were allowed under Texas law.
"The veto in question was made in accordance with the veto authority afforded to every governor under the Texas Constitution," she said. "We will continue to aggressively defend the governor's lawful and constitutional action, and believe we will ultimately prevail."
Still, despite the Democrat's legal tradition of championing due process, the Texas State Democratic Party is now calling for the governor to resign in what suspiciously appears to many to be a coordinated effort.
"Governor Rick Perry has brought dishonor to his office, his family and the state of Texas. Texans deserve to have leaders that stand up for what is right and work to help families across Texas," Texas Democratic Party Chairman Gilberto Hinojosa said in a statement.
Whether the left has motive to make Gov. Perry the target of a political witch hunt, is indisputable. The Texas State Democratic Party has been in shambles for years, unable to break the GOP hold on statewide office and earn the support of Hispanic voters by the large margins seen nationwide. State GOP Chairman Steve Munisteri of Houston said the indictment was clearly a result of "a politically motivated prosecution."
In the Texas governor race, Democrat nominee Wendy Davis has failed to live up to expectations and is currently trailing Attorney General Greg Abbott badly in polling among Hispanics in Hidalgo County, a must-win for Democratic candidates.
Further, Gov. Perry, who ran unsuccessfully for president in 2012 and has aspirations to run again in 2016, has made trouble for Democrats nationwide, as well. Perry has been an outspoken critic of President Obama and the Democrats on the issue of immigration, which has become a full-blown crisis on the Texas border. After meeting with President Obama, Perry made the decision to call up the National Guard after President Obama made clear he would continue to ignore the flood of illegal immigrants that are posing a danger to the sovereignty of Texas and the U.S., while endangered Border Patrol agents clearly aligned politically with Perry.
"Rick Perry is a friend, he's a man of integrity," said Sen. Cruz. "I am proud to stand with Rick Perry. The Texas Constitution gives the governor the power to veto legislation. And a criminal indictment predicated on the exercise of his constitutional authority is, on its face, highly suspect."
The indictment is the first of its kind since 1917, when James "Pa" Ferguson was indicted on charges stemming from his veto of state funding to the University of Texas in an effort to unseat faculty and staff members he objected to. Ferguson was eventually impeached, then resigned before being convicted — allowing his wife, Miriam "Ma" Ferguson, to take over the governorship.