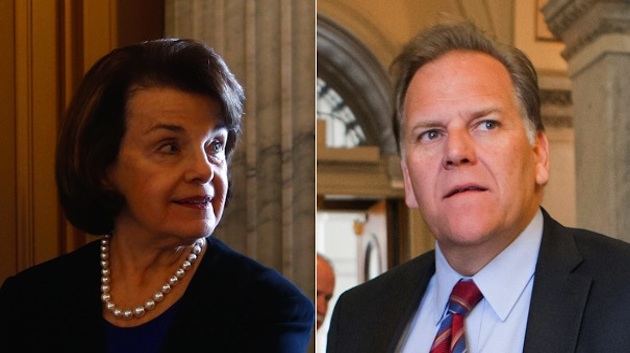 The two top leaders of the House and Senate intelligence committees both criticized President Obama on Sunday for failing to decide on whether to strike Islamic State targets in Syria, and urged the president to take decisive action before the militant group attacks on U.S. soil.
Senate Intelligence Committee Chair Dianne Feinstein (D-CA) said President Obama has been "too cautious" developing a strategy to combat the terrorist group Islamic State of Iraq and al-Sham. The charge the president has been too cautious is one we have heard from the California Democrat before.
"I think I've learned one thing about this president, and that is he's very cautious. Maybe in this instance, too cautious," Sen. Feinstein told NBC's Andrea Mitchell during an exclusive interview that aired on NBC's "Meet the Press" Sunday.
ISIS "is a major varsity team, if you want to use those kinds of monikers," Feinstein added, saying Obama was wrong to characterize the terrorist group as a "JV team" back in January.
"This is a vicious, vicious movement, and it has to be confronted," she said. "I mean, [ISIS] crossed the border into Iraq before we even knew it happened. So this is a group of people who are extraordinarily dangerous. And they'll kill with abandon."
"His foreign policy is in absolute free fall," Michigan GOP Rep. Mike Rogers, chairman of the House Permanent Select Committee on Intelligence, told Chris Wallace on Fox News Sunday."
Rogers also said Sunday that Obama's failure to act decisively regarding air strikes on ISIS targets in Syria is part of a larger foreign policy failure that is resulting in more aggressive and emboldened adveraaries, such as China, North Korea and Russia.
"It's all related," Rogers said. "The world sees the United States as withdrawn."
Both Feinstein's and Roger's comments come just 12 days after Islamic State released a video of a warrior beheading American journalist James Foley, and only days before the NATO Summit Thursday and Friday in Wales.
"There have been plans on the table," Rogers said. "The president just didn't want to get engaged."
Sen. Feinstein and Rep. Rogers have access to the nation's most sensitive secrets and information, which is why their comments are so concerning. Their interviews represent an increasingly rare instance of bipartisan agreement over foreign policy issues. Both of the two top chairs predicted an attack on the United States or its European allies if the terrorists are not attacked and defeated.
"They have announced that they don't intend to stop," Feinstein said. "They have announced that they will come after us if they can, that they will, quote, `spill our blood.' "
Meanwhile, Rogers warned that the threat largley includes Americans who have trained with ISIS, which according to the chairman, number in the hundreds who can return to the United States with their American passports.
"I'm very concerned because we don't know every single person that has an American passport that has gone and trained and learned how to fight," he said.