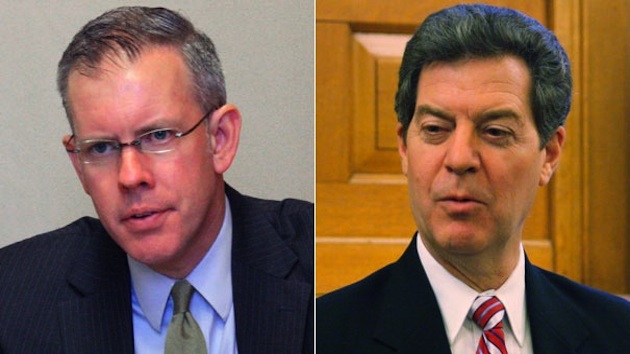 In Ruby Red Kansas, it may be too little for Democratic gubernatorial candidate Paul Davis to simply dismiss reports he was at a strip club when it was raided for drugs 16 years ago.
A Montgomery County sheriff's office report, which was first reported by The Coffeyville Journal Saturday, details how police found Democrat Paul Davis not just in the strip club, but on a couch in a private room with a woman wearing a G-string when the club known as "Secrets" was raided for drugs in August 1998. "Secrets" of this nature are not the best news for a Kansas candidate.
Various law enforcement reports later obtained by other media, including PPD, confirm the original report and the fact Davis was found in a private room paying for a private encounter.
Davis, who is the state House minority leader from Lawrence, contends it was not a big deal because he was not charged, arrested nor detained. While that may be true, it doesn't account for character and, his response is telling of a candidate who believes the behavior itself is perfectly normal.
"I was in the wrong place at the wrong time. Nobody has ever accused me of any wrongdoing," Davis said during a stop Saturday afternoon to meet campaign workers in downtown Overland Park.
Davis was 26 and single at the time the raid occurred, which is approximately five years before he was sworn in to the state legislature. To be sure, attendance at a strip club is nothing extraordinary for a young, single man, unless you live in Kansas and purport to be an honest man of morality.
Davis has made the race against incumbent Republican Gov. Sam Brownback a race about character, largely because he allegedly backed out of budget promises during negotiations with state legislators. Yet, Davis, and adoring media, have pushed a false response that conveniently omits what he was doing when the police officers found him.
The Davis campaign released a statement from the police chief in Independence, Kansas, who led the 1998 raid, but has refused to respond to follow up questions from People's Pundit Daily.
"Paul was not, and never to my knowledge, the focus of that or any other investigation," Police Chief Harry Smith said in the statement. "He was simply questioned briefly and released."
Aside from the strange comfort of being on a first name basis with the police chief, Davis said the club was represented by the owner of the law firm he worked for at the time. He also said his boss at the law firm was the person who took him to the club, though it is unclear whether the same person forced Davis into a private encounter for money.
Davis said he did not represent the club owner when the man was charged with selling methamphetamine, but again, none of this nonchalant posturing will go over well in the conservative state of Kansas.
According to the data, Republicans begin with hefty base of supporters, as 47 percent identify as solid to leans Republican. In fact, the number of self-described moderate voters in the state actually buck the national trend. In most states Democrats pull a disproportionately higher number of moderates away from Republicans, but that's not the case in Kansas. Out of the 36 percent of moderate voters in Kansas, nearly 2 to 1 will identify with Republicans.
And it gets worse when thinking about the new spotlight on Davis.
Just under 40 percent of voters in the state consider themselves "very religious," voters who may have been previously inclined to listen to Davis that will now no doubt — it is safe to assume — look unfavorably on the story.
It wasn't until the beginning of the summer that the national Republican Party came to grips with the fact they were going to have to sink a significant amount of money into this race and, despite PPD's warning and downgrade to "Leans Republican" earlier this year, they underestimated Davis and the Democrats, period. Sure, Kansas has moved farther to the right, and would certainly never elect Kathleen Sebelius if she was on the ballot today. But in gubernatorial campaigns, "All politics is local."
And for a once-nearly-flawless Davis, this is just bad local politics.
The state remains overwhelmingly Republican and, thus, both floundering Sen. Pat Roberts and Brownback remain at least slight favorites. The Partisan Voting Index ticked up from R+11 in 2010 — a GOP wave — to R+12 in 2014. On Gallup's state scorecard, which the PPD model pulls several key metrics from, Republicans have a 13-point party ID advantage. Obama's approval sits at 32 percent, trust in state government is high, minority animosity is low, religiosity is high and, and previously stated, conservatism is just as prevalent.
The variable currently hammering the GOP as of yesterday had been the one with the most influence analyzed by the model — candidate strength. Davis has largely lost that edge.
The Kansas governor race is currently rated "Leans Republican" on PPD's 2014 Governor Map Predictions model, though Brownbacks' chances have now increased to nearly 64 percent.