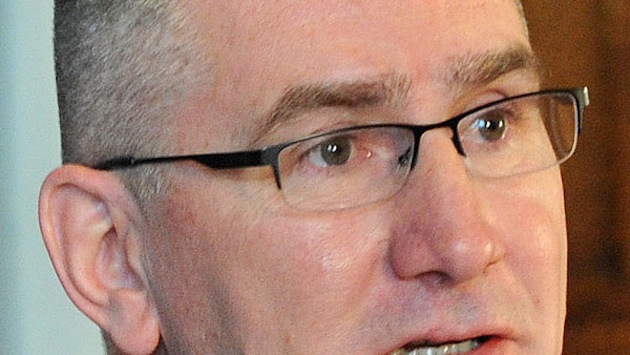 The U.S. Army War College revoked Democratic Sen. John Walsh's master's degree after an investigation completed Friday concluded he plagiarized the "strategic research paper" required to graduate.
The War College, located in Carlisle, Pennsylvania, initiated an investigation in August after The New York Times published a story clearly demonstrating Walsh plagiarized heavily from other sources in the 2007 thesis.
The prestigious degree was directly related to the advancement of his political career. Walsh was pursuing a Master of Strategic Studies degree at age 47, a year before he became Montana's adjutant general overseeing the state National Guard. After Walsh was appointed adjutant general of Montana's National Guard, a military evaluation said his selection for the position was "bolstered" by his degree from the War College, an institution that boasts the attendance of American heroes Dwight D. Eisenhower, George Patton and Norman Schwarzkopf.
From that position, Walsh launched his successful bid for lieutenant governor, painting himself as a moderate, otherwise extinct pro-military Democrat.
According to a War College spokeswoman, the investigative board took less than a day to hear the case and make its findings, which was settled on Aug. 22. In fact, according to the report released by Walsh's office, the review board made its conclusions less than 20 minutes after closing its August hearing. The process of appeal and review, however, wasn't completed until just this past Friday.
"The board found that then Colonel John Walsh did commit the offense of plagiarism and thus his Master's Degree and status as graduate of the U.S. Army War College should be revoked," War College spokeswoman Carol Kerr said in a statement to the media.
Not only did Walsh blame an alleged post-traumatic stress disorder when confronted by the media in August, as well as an obscure connection between himself and a fellow soldier who committed suicide, but his appeal was grounded in the same logic. Ironically, Walsh and the campaign backed off of that excuse after taking considerable criticism for the scapegoat in August, yet still used it in the appeal. Ultimately, it was not enough to support any other recommendation.
"It should also be noted that other students … have had similar or more serious personal and psychological issues during their year at USAWC, and they have been able to successfully complete course requirements without resorting to plagiarism or other cheating," the review board's report said.
Still in denial and refusing to take responsibility, Walsh's office released a statement saying the senator disagrees with the findings, but accepts the college's decision.
"I apologize to all Montanans for the plagiarism in my 2007 paper, and I am prepared to live with its consequences," Walsh said in the statement. "I may not be a scholar, but I am proud to have been a soldier who has served Montana and this great nation for 33 years in uniform."
Walsh dropped out of the Nov. 4 Senate race shortly after the plagiarism story broke, but PPD's 2014 Senate Map Predictions model moved the contest from "Likely Republican" to "Safe Republican" shortly before. Walsh, 53, was appointed by Gov. Steve Bullock in February to serve out the remainder of retiring Democratic Sen. Max Baucus' term, which Democrats hoped would boost their chances of keeping the Red state's Senate seat. He is a decorated veteran of the Iraq war, a former adjutant general of his state's National Guard and, now, a plagiarist.
In August, Montana Democrats chose state lawmaker Amanda Curtis to replace Wash as their candidate, who was exposed as a socialist and found herself stunned like a deer in the headlights unable to answer a radio host's inquiry into that and other issues.