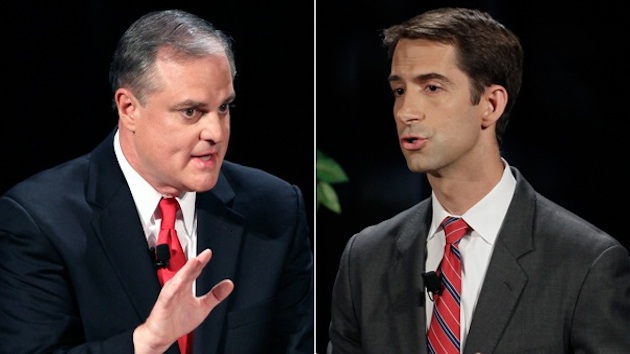 PPD projects Republican Tom Cotton will defeat Mark Pryor in the Arkansas Senate race, giving the GOP another net pickup needed on their way to a new majority. Asa Hutchinson also defeated his Democratic challenger for governor.
Cotton was a top-tier candidate who put together a coalition of Establishment and conservative groups early in the cycle, which allowed him to avoid in-party distractions, rack in the money needed to be competitive and take advantage of the state's rightward leanings.
"Congratulations to Tom Cotton, a constitutional conservative and man of principle who demonstrated tonight that voters are tired of liberals running the United States Senate," said Club for Growth President Chris Chocola. "Tom Cotton ran a great campaign, and he never wavered in his belief that limited government and economic freedom are the keys to prosperity."
The Club's Super-PAC spent nearly $800,000 on independent ads to help elect Tom to the Senate, and the Club's PAC bundled $853,012 directly to Tom's campaign from Club members.
"The Club for Growth PAC was excited to support Tom when he first ran for Congress in 2012, and we're ecstatic that the voters of Arkansas have given him a promotion. Tom Cotton will do great things in the U.S. Senate and we can't wait to watch."
Pryor, in the end, voted for ObamaCare against the wishes of his constituents, along with a liberal president roughly 97 percent of the time. His defeat marks the conclusion of Republican dominance in a state Bill Clinton hailed from.
PPD's 2014 Senate Map Predictions model rated the Arkansas Senate race either Leans Republican or Likely Republican the entire cycle.