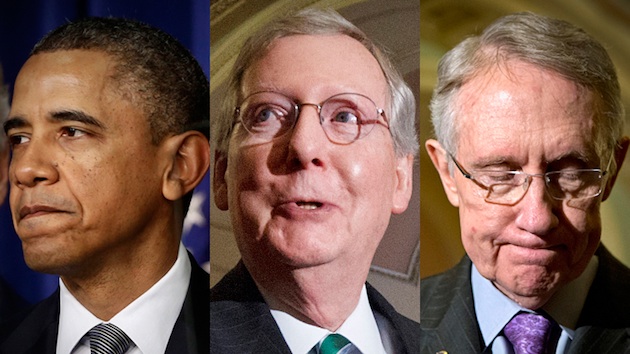 In a historic rebuke of President Barack Obama and the Democratic Party, the Republicans swept election after election Tuesday to retake control of the U.S. Senate. It will be the first time the GOP has a Senate majority since losing their own in 2006.
Republicans netted at least 7 seats in the Senate, not counting the certain defeat of Louisiana Sen. Mary Landrieu, who ran far behind her polls. In the House of Representatives, Republicans are likely to pick up at least 12 seats, leaving the Democratic Party at historic lows in the lower chamber. The gain will put the GOP above their post-World War II high of 245 set in 1946.
"Tomorrow, the papers will say I won this race, but the truth is … tonight we begin another one, one that's far more important than mine — and that's the race to turn this country around," McConnell said in Louisville.
Republicans picked up Senate seats in Arkansas, Montana, West Virginia, South Dakota, Iowa, Colorado, North Carolina, with Virginia and New Hampshire still in doubt. In New Hampshire, former Massachusetts Sen. Scott Brown is refusing to concede against Democrat Jeanne Shaheen, while Republican Ed Gillespie was trailing by under around .5 percent in a race against Democrat Mark Warner that he was never expected to win, or even be close to winning.
In Colorado, Republican Rep. Cory Gardner handily defeated incumbent Democratic Sen. Mark Udall by flipping the Denver and Colorado Springs suburbs Republican. In Iowa, Joni Ernst made history by becoming the first woman ever to be elected to the U.S. Senate by the state.
Republican Thom Tillis overcame incumbent Democrat Sen. Kay Hagan by a margin of just under 2-points, the exact margin of PPD's final tracking poll. The race saw over $100 million in campaign spending, clocking in as the most expensive race in Senate history.
The governor races across the country were widely seen as the best chance for Democrats to net contests, but as of now, the GOP has a net pickup of 3 statehouses across the country. Wisconsin Governor Scott Walker comfortably beat back a third Democratic challenge in just 4 years, Florida Governor Rick Scott defeated former Republican-turned-independent-turned-Democrat Charlie Crist, and Ohio Governor John Kasich cruised to reelection.
Across the country, gubernatorial contests considered Toss-Ups going into Election Day fell for the GOP en masse. Maine Governor Paul LePage beat back a challenge in a three-way contest, Republican Charlie Baker has defeated Martha Coakley in the Massachusetts governor race, and Republican Larry Hogan unexpectedly dispatched Democrat Anthony Brown in liberal Maryland.
In the president's home state of Illinois, Republican business Bruce Rauner defeated incumbent Democratic Governor Pat Quinn in a race that could become the model for Republican candidates actively reaching out to minority voters.
The question now remains whether Republicans can end the gridlock in Washington, which has been in paralysis with soon-to-be Minority Leader Harry Reid at the helm.