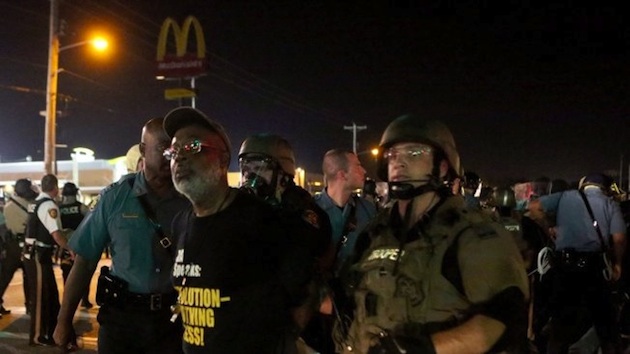 Protesters forced three large malls in St. Louis to close their doors on one of the busiest shopping days of the year, Black Friday. Other events were held nationwide under the guise of a protest against the grand jury's decision not to indict Officer Darren Wilson, a white cop who shot and killed an 18-year old black suspect, Michael Brown.
While the media has held tight to the narrative that the protestors are concerned with race relations in the country, those who are organizing the protests are not. At PPD, as usual, we print and share the truth.
Many of the groups organizing the protests have teamed up with the New Black Panther Party, a violent and racist black power group that only uses race relations to push a radical leftist, big government agenda. Before they slapped a "New" onto a an old and tainted label, they used similar tactics to gain support from angry, young black men and women they then used to support the Great Society.
In the Wal-Mart Supercenter parking lot, members of the Revolutionary Communist Party handed out literature to protestors, many of whom were corralled over by members of the New Black Panthers. The Revolutionary Communist Party (RCP) was founded in 1975 by Bob Avakian, who continues to head it up at least in name to this day.
The group's self-described goal is "the building of a new society, a socialist society, aiming for the final goal of a communist world, where human beings everywhere would be free of relations of exploitation and oppression and destructive antagonistic conflicts, and could be fit caretakers of the earth."
While that sounds very well and good, or perhaps not if you're smart, it is really about spreading statism — the control over individuals by a centralized power. Talking Points Memo recently did a fantastic write up on them and their role in Ferguson, but they are but one group.
Nearby, the co-coordinator of the Green Party of St. Louis, Don Fitz, shouted, "Where's my turkey?" The Green Party is another radical leftist, environmental group driven more by the red communist movement than the green movement. He and other organizers used Twitter and other social media platforms, signaling the hashtags #NotOneDime, #BlackOutBlackFriday, #Blacklivesmatter and #Stlblackfriday, MyFox2Now.com reported.
In Chicago, about 200 people gathered near the city's popular Magnificent Mile shopping district. There, Kristiana Colon, 28, a member of the Let Us Breathe Collective, another leftist environmental group with the same MO, has been taking supplies such as gas masks to protesters in Ferguson.
"We want them to think twice before spending that dollar today," she said of shoppers. "As long as black lives are put second to materialism, there will be no peace."
Of course, materialism is synonymous with the ignorant and inadequate definition of capitalism, the origins of which in and of itself, has little to do wealth and greed. But at least someone was being honest.
Malcolm London, a leader in the Black Youth Project 100, which has been organizing Chicago protests, flat out said the group was using the death of Michael Brown to rally support for other issues.
"We are not indicting a man. We are indicting a system," London told the crowd.
In fact, as we can see from the video below, the groups have been playing vital roles in these so-called protests the entire time. They have been doing what they do best — praying on anger and ignorance. This was never about the death of Michael Brown or any other one of the thousands of young black males gunned down on the streets of America's inner-cities each year.
And that's the true tragedy.