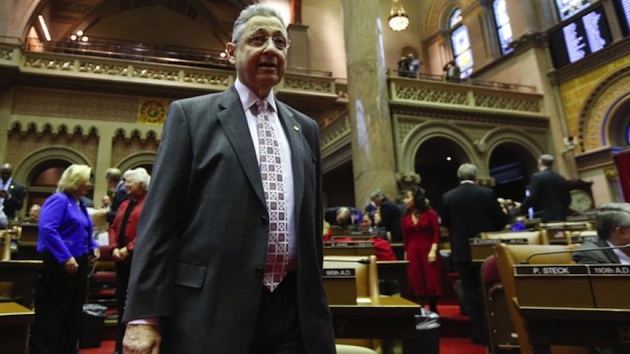 The Federal Bureau of Investigation (FBI) confirmed Thursday that NY Assembly Speaker Sheldon Silver (D-Manhattan) was arrested on public corruption charges. Silver, 70, is accused of using his position as one of the most powerful men in Albany to obtain millions of dollars in bribes and kickbacks masked as legitimate income.
The speaker of the New York Assembly was taken into custody around 8 a.m. at the FBI's New York City office, FBI spokesman Peter Donald confirmed. Silver faces five counts, including conspiracy and bribery charges. He is expected to make a court appearance later Thursday to answer the charges, which came just a day after Silver shared the stage with Gov. Andrew Cuomo during his State of the State address.
"There is probable cause to believe Silver obtained about $4 million in payments characterized as attorney referral fees solely through the corrupt use of his official position," the criminal complaint said. "Silver took legal action and other steps to prevent the disclosure of such information," when the now-boarded anti-corruption commission began to investigate public corruption in 2013, the complaint said.
The charges came only after U.S. Attorney Preet Bharara took over the case files of New York's Moreland anti-corruption commission, which Cuomo suspiciously closed in April. Bharara vowed further investigations into Albany's "pay-to-play politics."
In a defiant response, Joel Cohen, Speaker Silver's attorney, said the charges "meritless."
"Mr. Silver looks forward to responding to them — in court — and ultimately his full exoneration," Cohen said in a statement to media.
The commission, and subsequently Mr. Bharara, were investigating lawmakers' earnings outside their state salaries, a topic Silver knows well. His large outside income has long been a subject of suspicion and controversy. Last year, he reported making up to $750,000 for legal work, the vast majority of which he claimed working with the trial firm of Weitz & Luxenberg.
In fact, Silver is no stranger to corruption and scandal, overall. In 2003, his then-counsel, Michael Boxley, was convicted of sexual misconduct. Then, in 2012, Silver arraigned a confidential settlement of $103,000 in public funds for two women who had alleged they were sexually harassed by then-Assemblyman Vito Lopez, a Democrat from Brooklyn and their boss. Only after the settlement came into public light did the Assembly speaker come under fire by New York's liberally-bias media, prompting Silver to later admit the case should have been handled by the ethics committee.
Silver was first elected to the Assembly in 1976, representing a district on Manhattan's Lower East Side, where he was born and still lives with his wife, Rosa.