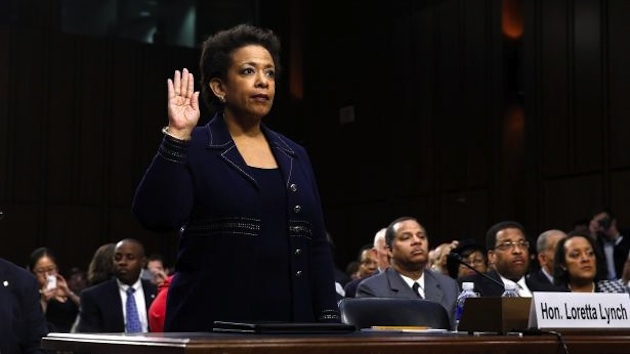 Attorney General nominee Loretta Lynch is now under fire from Sen. David Vitter, R-LA, of the Senate Judiciary Committee for her involvement in the Obama administration's decision not to prosecute HSBC (NYSE:HSBC) for laundering funds for Mexican drug cartels and Middle Eastern governments, such as Iran.
WND first broke the detailed accounts of whistleblower John Cruz, a former HSBC employee, who has attempted to hold the international bank accountable for its laundering practices by handing over documents and voice recordings to multiple government agencies that have so far been sent right back to the bank's own internal investigators.
Lynch was the U.S. attorney for the Eastern District of New York who worked with the Department of Justice to give the bank a "deferred prosecution" settlement, in which the institution agreed to pay a $1.9 billion fine and admit "willful criminal conduct" in exchange for avoiding Department of Justice (DOJ) criminal investigations. The branch conveniently already had $2 billion set aside for such purposes when the deal was finalized.
Cruz alleges — with over 1,000 pages of evidence and secret audio recordings, alongside federal prosecutors — that HSBC laundered funds for customers in Cuba, Iran, Libya, Sudan and Burma. Such transactions were possibly made through a systematic identity theft scam operation involving American citizens' personal information.
Lynch previously acknowledged that HSBC "routinely did business with entities on the U.S. sanctions list," adding that the bank evaded the sanctions "by disguising the source of funds so the payments would go through." Yet, Lynch and DOJ officials allowed HSBC employees to get off with a payment to the government and no risk of prison or criminal trials.
Cruz's information and documentation went unexplored and he was never contacted by Lynch throughout her investigation of the bank by the Justice Department.
In fact, the mainstream media largely ignored Lynch's role in the cover-up of the U.S. bank's money-laundering scandal. In addition, there has been no questioning as to why criminal charges weren't pursued by Lynch for HSBC's Swiss arm, which illegally helped clients, some of them American, evade taxes. This CNN Money report left out any mention of Lynch and the U.S. whistleblower's accounts that are now under investigation on the heels of her confirmation to be the chief law enforcement officer of the U.S. government.
Progressive Democrats, with the exception of Sherrod Brown, are now silent on the HSBC scandal, choosing not to call out the president's nominee for her failure to prosecute white-collar criminals. Even Elizabeth Warren has called for criminal charges without challenging Lynch and the Justice Department, who have so far let 5 years pass without serious action taken since the information broke.
By contrast, Vitter and Chairman Chuck Grassley, R-Iowa, are leading an investigation into Lynch's negotiation with the world's second largest bank.
"Why, nearly five years after the DOJ became aware of the tax evasion scheme, have no criminal charges been brought?" Sen. Vitter asked, adding he believes the fine was "a slap on the wrist, and would cast serious doubt on Ms. Lynch's capacity to serve as our top law enforcement official."
President Obama in November praised Lynch for prosecuting "mobsters and drug lords and terrorists." Lynch was more recently known for supervising a team that indicted Rep. Michael Grimm, R-N.Y., on fraud, tax evasion and perjury charges.
Today, Lynch is now in the hot seat for failing to prosecute some of the world's most powerful bankers illegally involved with drug lords, Swiss bank accounts, terrorists and tyrants.
"If Loretta Lynch and DOJ swept under the rug a serious money laundering scheme involving Mexican drug cartels and terrorist organizations, we need to know a heck of a lot more about it," Vitter said.
Republicans must continue to grill Lynch over what she knew about the tax evasion charges and when she became aware of it so the American people can know that no bank is in fact "too big to jail."