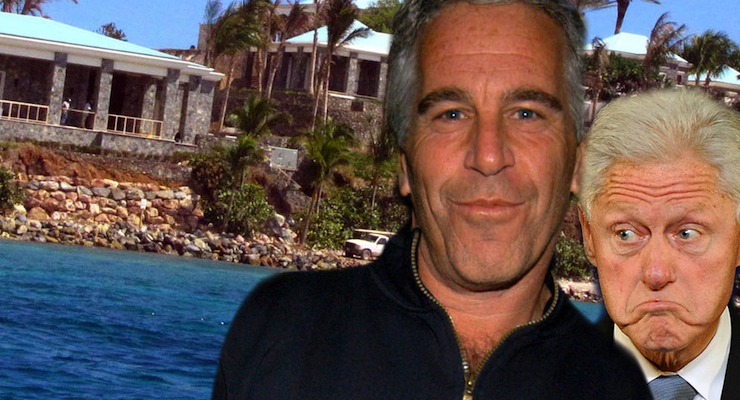 Judicial Watch has sued the Department of Homeland Security (DHS) to uncover details about Bill Clinton's trips on the "Lolita Express" to "Orgy Island." The watchdog group said Tuesday they filed the lawsuit to obtain records of all Secret Service expenses incurred to provide "security and or/other services" to the former president during his trips to the private Caribbean island retreat owned by convicted sex offender and Clinton friend, Jeffrey Epstein.
Epstein's private Caribbean Island of Little Saint James was first exposed as "Orgy Island" in December 2014, when Virginia Roberts – who is now a married, 31-year-old mother of three – filed an affidavit in a Florida federal court alleging that when she was just 15 years-old she was procured as sexual entertainment by liberal socialite Ghislaine Maxwell for Epstein and his friends.
Judicial Watch President Tom Fitton said DHS failed to comply with a January 15, 2015, FOIA request, which named "any and all records reflecting expenses incurred to provide security and/or other services to former President Bill Clinton and any companions for trips to the Caribbean island owned by Jeffrey Epstein known as Little St. James from 2001 to the present date."
According to a flight manifest (logbook) — viewable below — Clinton flew aboard Epstein's private Boeing 727, dubbed the "Lolita Express," on more than a dozen trips to "Orgy Island." Clinton, on at least one occasion was accompanied by "4 secret service" agents and Maxwell, the very woman prosecutors claim procured underage girls to sexually service Epstein and his friends.
"If there is nothing to hide in the Epstein scandal, then why is the Obama administration breaking federal transparency law rather than giving us information about his travels?" Fitton said. "That we've now had to go to federal court to try to get this Secret Service information speaks volumes."
Epstein pleaded guilty in 2008 and served just 13 months after Mrs. Roberts alleged he enjoyed the company of multiple teenage sex slaves. Roberts also put the former president at the scene, but only Epstein ended up a registered "Tier 1" sex offender.
Via the The New York Post:
"I remember asking Jeffrey, 'What's Bill Clinton doing here?'" Roberts said in 2011. "The former president, she added, was accompanied by four young girls during his stay — two of whom were among Epstein's regular sex partners. And [Jeffrey] laughed it off and said, 'Well, he owes me a favor.' He never told me what favors they were."
Flight logs from the "Lolita Express" during Clinton's week-long anti-poverty and anti-AIDS tour, also listed the name Chauntae Davies for a period of five days. Davies, who appeared in Epstein's address book under an entry for "massages," is a soft-core pornography movie actress.
"Beginning with his misuse of state troopers when he was an Arkansas governor," Fitton added, "Bill Clinton has a long record of abusing his taxpayer-funded security details to facilitate and cover-up his illicit sexual activities."
Requests for comment put into both DHS and the Clinton campaign were not immediately returned. In the past, the Clintons have dismissed the questions surrounding Epstein, stressing that Bill severed ties with Epstein following his arrest in 2005. However, they have yet to provide an explanation for the flight logs.
The Justice Department says they believe that Epstein had upwards of 40 victims, in total.