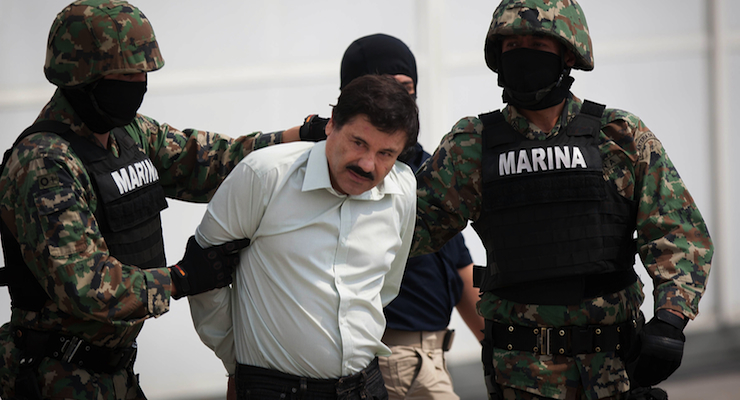 Drug lord Joaquin "El Chapo" Guzman escaped from a maximum security prison via a 1 mile tunnel found in a small opening in the shower area of his cell. This is the second time the Mexican government allowed Guzman, the head of the Sinaloa Cartel worth nearly $1 billion, to escape despite assurances to the U.S. government.
"This represents without a doubt an affront to the Mexican state," said President Enrique Pena Nieto, speaking during a previously scheduled trip to France. "But I also have confidence in the institutions of the Mexican state — that they have the strength and determination to recapture this criminal."
But not everyone — including 2016 Republican presidential hopeful Donald Trump — is as confident as Mr. Nieto.
Mexico's biggest drug lord escapes from jail. Unbelievable corruption and USA is paying the price. I told you so!

— Donald J. Trump (@realDonaldTrump) July 12, 2015
"Without a doubt," Terry Kirkpatrick, a former retired U.S. Customs and Border Protection special agent said when asked if Trump was right. "This is corruption at the highest level."
Guzman was last seen around 9 p.m. in the shower area of his cell — yes, he had his own personal shower in what is otherwise described by prisoners as hell on earth — according to a statement from the National Security Commission. When the prison's security camera surveillance network failed to pick him up, guards checked his cell and found it empty, along with a 20-by-20-inch (50-by-50 centimeter) hole near the shower.
"Corrupt Mexican officials obviously let him go a second time," Trump said in a statement. "He is possibly in the U.S. and his drugs and drug dealers freely cross into the United States through our pathetic border."
Now that the Mexican drug lord escaped from prison, everyone is saying that most of the cocaine etc. coming into the U.S. comes over border!

— Donald J. Trump (@realDonaldTrump) July 13, 2015
Guzman used a latter to descend into a hole 10 meters (30 feet) deep that ran into a tunnel roughly 1.7 meters (5 feet-6 inches) high, which was outfitted with ventilation and lighting. Authorities said they found tools, oxygen tanks and a motorcycle — yes, a motorcycle — adapted to run on rails that they believe was used to carry dirt out and tools during the tunnel's construction.
"I'm sure they had guards from the local and federal police standing on the outside ready to escort him to wherever he wanted to go in Mexico City," Kirkpatrick said.
Thirty employees from the Altiplano prison, located roughly 55 miles (90 kilometers) west of Mexico City, have been taken in for questioning, according to the federal Attorney General's Office. A manhunt is also currently underway patrolling the Mexican side of the U.S.-Mexico border, which officials say is largely controlled by Guzman's cartel.
Guzman's cartel is known for building elaborate tunnels beneath the Mexico-U.S. border to transport cocaine, methamphetamines and marijuana, with ventilation, lighting and even railcars to easily move products. Authorities say that Guzman's cartel proliferates the greatest and most-diverse amount of drugs to the U.S. and Europe.
El Chapo and the Mexican drug cartels use the border unimpeded like it was a vacuum cleaner, sucking drugs and death right into the U.S.

— Donald J. Trump (@realDonaldTrump) July 13, 2015
Officials also say Guzman, who is named public enemy number one in Chicago, is responsible for some 30,000 deaths.
….likewise, billions of dollars gets brought into Mexico through the border. We get the killers, drugs & crime, they get the money!

— Donald J. Trump (@realDonaldTrump) July 13, 2015
He was first caught by authorities in Guatemala in 1993, extradited and sentenced to 20 years in prison on drug-trafficking-related charges before he escaped in 2001. Guzman had help from 13 prison guards, who were in fact prosecuted and convicted. Guzman was finally re-captured in February 2014 after eluding authorities for days across his home state of Sinaloa.
After Guzman was arrested, the U.S. wanted to extradite him, but the Mexican government denied the need to extradite. Officials worried he would escape just as he did in 2001 while he was serving a 20-year sentence in the country's other top-security prison, Puente Grande, located in the western state of Jalisco.
Former Mexican Attorney General Jesus Murillo Karam told the AP earlier this year that the U.S. would get Guzman in "about 300 or 400 years" after he served time for all his crimes in Mexico. He dismissed concerns that Guzman could escape a second time. That risk "does not exist," Murillo Karam said.
"It wasn't overconfidence; it was Mexican judicial nationalism," said Raul Benitez, a security expert at Mexico's National Autonomous University. "First he had to pay his debt in Mexico and then in the U.S. Now it's very evident that it was a mistake."
When will people, and the media, start to apologize to me for my statement, "Mexico is sending….", which turned out to be true? El Chapo

— Donald J. Trump (@realDonaldTrump) July 13, 2015