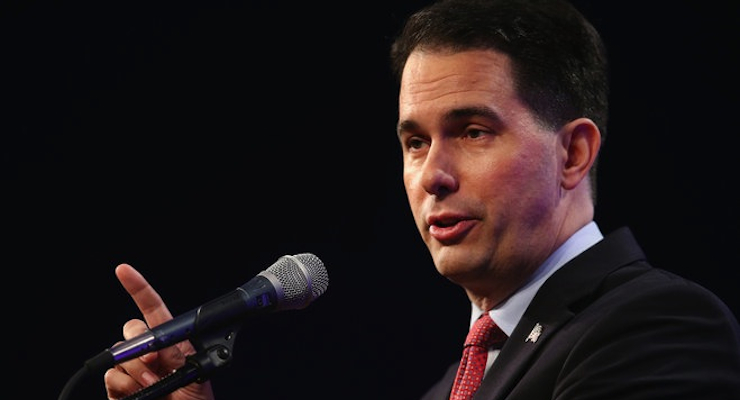 Wisconsin Gov. Scott Walker has officially announced his 2016 bid for president, making him the 15th Republican presidential candidate to declare. Walker announced his plans on social media and in a fundraising email.
I'm in. I'm running for president because Americans deserve a leader who will fight and win for them. – SW http://t.co/DZG253QjfP #Walker16

— Scott Walker (@ScottWalker) July 13, 2015
Gov. Walker, who gained national attention and notoriety during his battle with the labor unions in the home state of union progressivism, is currently the frontrunner in Iowa, according to early polling of the caucuses. Following a well-received and widely reviewed performance at the Iowa Freedom Summit, the Wisconsin governor surged to lead and hasn't relinquished it since.
"If we are going to do this, we are going to do it right," Gov Walker said. "We will need to hit the ground running and build a campaign fund big enough to take on Hillary Clinton or whomever the Democrats nominate."
I'm running for President of the United States to fight and win for the American people. -SW #Walker16 http://t.co/bBnRMAurmh

— Scott Walker (@ScottWalker) July 13, 2015
Walker won three elections in four years after the budget battle prompted unions to launch and lead a failed recall effort. Each time, Walker won reelection with a greater percentage of the vote. According to PPD's senior political analyst, Richard D. Baris, Walker perhaps has the most potential out of all the GOP candidates to unite the party's factions.
"Though they clearly want Jeb Bush, Gov. Walker is a candidate both the establishment can deal with and the base loves," Baris said. "That said, he is also a serious threat to Hillary Clinton, which is why she wants to suck the air out of the room today."
Clinton will release an economic plan Monday that will call for targeting the wealthy and more regulation, an approach Walker vehemently disagrees with.
"Our bold, conservative reforms helped bring Wisconsin's unemployment rate down to 4.6% in 2015 from a peak of 9.2% in 2010 and our hard-working families have more money in their wallets," Walker said in an email. "We took power away from the Big Government Labor Bosses and gave it to the workers — where it belongs. We got Wisconsin's fiscal house in order by turning a $3.6 billion budget deficit to a nearly $1 billion surplus and providing $2 billion in tax relief."
"Our reforms were big, bold, and courageous. We faced detractors and vicious attacks at every turn."
Walker is set to officially kick off his campaign later Monday at a rally in Waukesha, Wis., and tweeted "Meet Scott Walker" to introduce himself to voters.
"Meet Scott Walker, Our Dad" via @MattWalkerWI and @AlexWalkerWI http://t.co/yPkFaT6xmW #Walker16

— Scott Walker (@ScottWalker) July 13, 2015