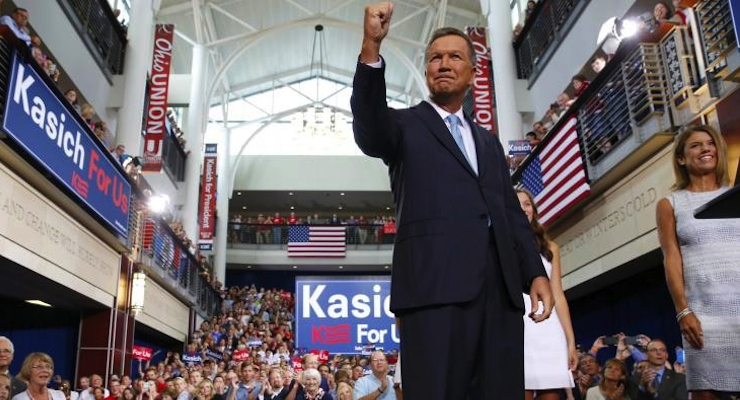 Gov. John Kasich became the 16th candidate to enter the 2016 Republican nomination race on Tuesday during a rally in Columbus at his alma mater, Ohio State University. "I have to humbly tell you, I believe I do have the skills" to serve as president, Kasich said during the announcement, arguing he was ready to take on the "daunting challenge" of restoring America.
But despite haling from a key swing state, Gov. Kasich is facing an uphill battle to win the party nomination and earn the right to take on Hillary Clinton.
Kasich, 63, a former congressman, served as the House Budget Committee chairman and often cites his role in balancing the federal budget during President Bill Clinton's administration when touting his fiscal conservative credentials. However, the Supreme Court decision in June to uphold ObamaCare subsidies ensured the president's signature health care law will become one of the hottest issues during the GOP primary, and this will not work in the governor's favor.
"John Kasich's decision to expand Medicaid in Ohio in 2013 was a costly mistake," said Club for Growth President David McIntosh. "Medicaid enrollment in Ohio has far outpaced Kasich's projections and more than doubled in cost. The Club for Growth is concluding its research into Kasich's broader record on issues of economic freedom. But, our presidential white paper on the Ohio governor will, no doubt, warn of the long-lasting consequences from his decision to burden Ohio with an ever-growing price tag for Medicaid expansion."
As governor of Ohio, Kasich bucked the Republican governor trend nationwide and opted to expand Medicaid under ObamaCare, arguing that Ohioans' tax dollars would have been spent on the program, regardless. However, federal payments to states are not finite and depreciate over time, leaving those who chose to opt in with a potentially costly burden.
And as the Club for Growth noted, the Kasich administration widely underestimated the cost to Ohio taxpayers, something the self-proclaimed budget hawk will have to answer for on the debate stage and town halls across New Hampshire. The administration initially projected 365,616 people to enroll by June 2015 under Ohio's Medicaid expansion, but as of May of this year a whopping 537,010 additional enrollees have exploded the Medicaid rolls to 2.9 million. The cost in real dollars will far exceed promised estimates.
The projected before-tax amount of the state's share of Medicaid expansion in fiscal year 2017 was $55.5 million. However, considering actual enrollment, the figure will come in at roughly $130 million. Because of Kasich's decision to move forward with the unpopular Medicaid expansion, the state's share has skyrocketed from the $7 billion (20 percent) seen in the 2010-11 budget to $11.9 billion, or 25.9 percent that is marked for the current two-year budget.
"PPD's model identifies Walker, Bush and Rubio as the top three candidates in the crowded 2016 field," says senior political analyst Richard D. Baris. "We will discuss this more in the following days when we release our expanded analysis, but as of now, Gov. Kasich may be too little too late to overcome fundamental challenges with the party base and a general lack of room in the party establishment."
"We've always thought he had serious potential as a 2016 candidate, but the odds are stacking up against him."
According to the PPD average of national nomination polls, the Buckeye State governor registers at a statistically-insignificant 1.5 percent. In order to gain support, name recognition and stature in a crowded field in a hurry, Kasich plans to dump almost $3 million in TV advertising in New Hampshire. Unfortunately, on average, he enjoys just 1.7 percent support among Granite State Republican primary voters.