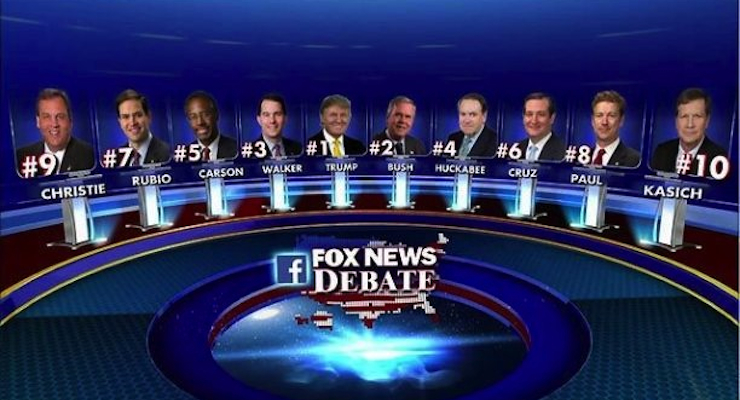 Fox News has announced the top 10 candidates who have qualified for the Republican debate during prime-time Thursday in Cincinnati, Ohio.
Top 10 Republican Presidential Debate Qualifiers:
The prime-time debaters include current frontrunner and real estate mogul Donald Trump; former Florida Gov. Jeb Bush; Wisconsin Gov. Scott Walker; former Arkansas Gov. Mike Huckabee; retired neurosurgeon Ben Carson; Texas Sen. Ted Cruz; Florida Sen. Marco Rubio; Kentucky Sen. Rand Paul; New Jersey Gov. Chris Christie; and Ohio Gov. John Kasich.
The seven who did not make the top 10 but will be invited to a separate 5 p.m. ET debate are former Texas Gov. Rick Perry, former Pennsylvania Sen. Rick Santorum, Louisiana Gov. Bobby Jindal; former HP head Carly Fiorina; South Carolina Sen. Lindsey Graham; former New York Gov. George Pataki; and former Virginia Gov. Jim Gilmore.
Kasich, the governor of a must-win state for the eventual nominee, which just so happens to be the very state where the Fox News debate will be hosted, bumped Perry for the final slot following his recent campaign announcement. In fact, each candidate has received a bump in the polls thus far — save for Trump, who has yet to come down — but Fox did not factor in whether the Buckeye state leader would even maintain what little momentum he has enjoyed.
I look forward to being @FoxNews 5pm debate for what will be a serious exchange of ideas & positive solutions to get America back on track.

— Rick Perry (@GovernorPerry) August 4, 2015
"As governor, I am glad to welcome my fellow debate participants to our great state and I look forward to discussing the issues facing our country with them on Thursday," Kasich said in a statement following the announcement.
[spu-facebook-page href="https://www.facebook.com/PeoplesPunditDaily" name="People's Pundit Daily" show_faces="false" hide_cover="false" ]