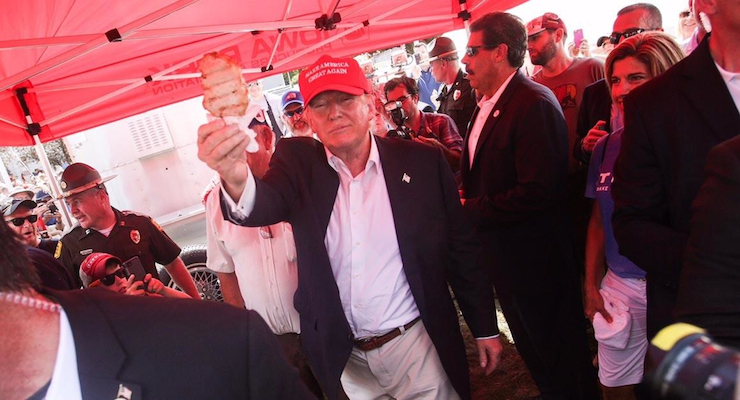 One of the nation's leading liberal experts on H-1B Visa program gave the "surprisingly detailed" Trump immigration plan an A+ in a blog post Monday night. But, perhaps more newsworthy, is who the expert is that is giving The Donald high marks.
Norm Matloff, a self-described Democrat, professor at UC Davis and "longtime admirer" of socialist Sen. Bernie Sanders, has written extensively about the failures of the H-1B visa program. His work is widely cited in the academic and reform communities. Matloff indirectly compared the detailed plan released Monday with the plan released by fellow Republican presidential candidate, Florida Sen. Marco Rubio.
"Presidential candidate Donald Trump stunned the H-1B visa watcher community today with his platform on immigration. which includes surprisingly detailed, helpful provisions regarding H-1B," Matloff wrote. "On H-1B, the man gets an A+. I've never seen any politician, even Tom Tancredo, put up such an effective platform as Trump has… One nice added touch: He refers to pro-H-1B Senator Rubio as "Mark Zuckerberg's personal senator."
Matloff took aim at both Republicans and Democrats for not protecting the American worker against an immigration policy–or rather, a policy not to enforce existing law–which is designed to provide big business cheap labor, Democratic votes, and as ultimately resulted in stagnant wages for the domestic labor force.
"Trump says in his platform what no other politician, including Sanders, is willing to say: Immigration is great in sensible quantities, but in its present form, both legal and illegal, it's hammering the lower and middle classes. Take for example the high black and Latino unemployment rates," Matloff adds. "The Democrats say the solution is education and the Republicans say the path is lower taxes and regulation, and though both may have points, Trump states the obvious — bringing in large numbers of low-skilled immigrants is going to harm the most vulnerable people in our society, our own low-skilled (including earlier immigrants)."
The Trump immigration plan, at least to deal with the failed H-1B visa program, is not only a winner with Matloff but also the American voters. According to Lydia Syaad of Gallup, American by a 2-1 margin what to reduce legal immigration, let alone illegal immigration. A new Rasmussen Reports survey released this week found 51 percent of likely voters believe illegal immigrants are taking jobs away from U.S. citizens. With the U.S. economy sputtering along, a majority of Americans say they're competing for jobs with the growing number of illegal immigrants in this country that shouldn't even be in the running.
"I believe that most Americans welcome immigrants. But immigration policy must be a sensible one that is beneficial to those already here," Matloff concludes. "We need a national dialog on the issue, not selfish posturing by politicians. Hopefully Trump's platform will lead to a broader — and more honest! — dialog on this crucial topic."