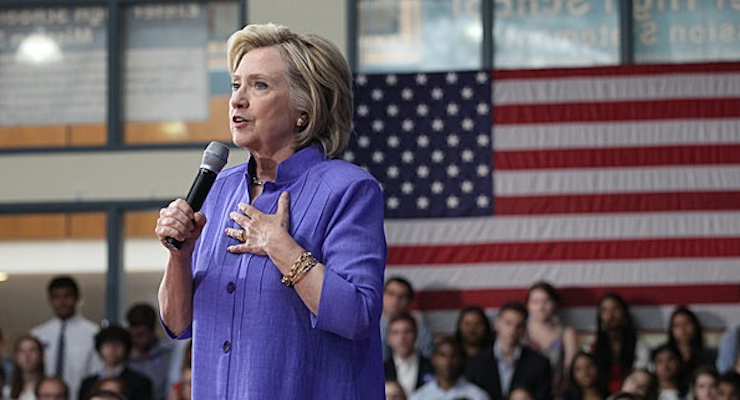 While speaking at the Iowa State Fair over the weekend, Hillary Clinton tried downplaying the federal investigation into her private server. The Democratic presidential candidate and frontrunner essentially blamed the "vast right-wing conspiracy" for the attacks on her email practices, which violated both the Federal Records Act of 1950 and separate regulations imposed by President Obama.
"I never sent classified material on my email and I never received any that was marked classified. I'm gonna let whatever this inquiry is go forward and we'll await the outcome of it," Clinton told reporters at the Iowa State Fair. "It's not anything people talk to me about as I travel around the country. It is never raised in my town halls, it is never raised in my other meetings with people."
Unfortunately for the former secretary of state, first lady and senator from New York, voters aren't buying what she is selling. In fact, according to a new FOX Poll, 58 percent of registered voters thinks Clinton "knowingly lied" when she first claimed in a March press conference that no emails on her private server contained classified information. Only a third–roughly the number of hardcore Democratic voters–said there is "another explanation" for internal government investigators admitting emails deemed classified were found on Clinton's server. Further, by a 54-37 percent margin, voters feel Clinton put our national security at risk by using a private email server.
Meanwhile, a report from The Washington Times claims the total number of her private emails identified by an ongoing State Department review that contained classified data has increased to 60. Officials told The Times that the figure is current through the end of July and is likely to grow as investigators continue to pour through the 30,000 work-related emails that passed through her personal email server.
The 60 emails are among those that have been reviewed and cleared for release under the Freedom of Information Act as part of a open-records lawsuit, nearly all contained classified secrets at least at the lowest level of "confidential." At least one contained information at the intermediate level of "secret," officials told the Times.