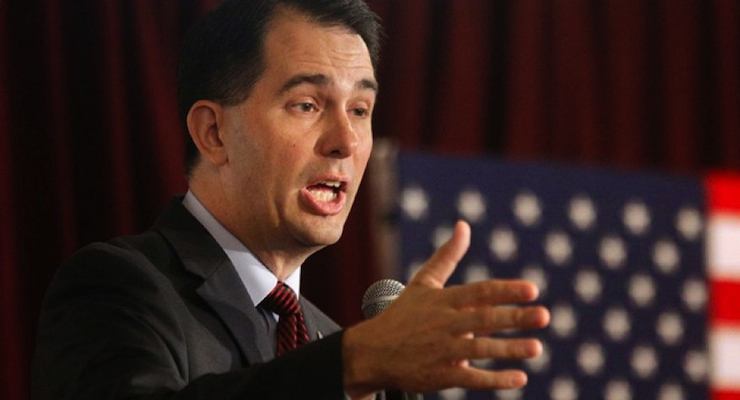 Wisconsin Gov. Scott Walker will call for ending public sector labor unions and the National Labor Relations Board on Monday in Las Vegas, Nevada. Walker, a 2016 Republican presidential candidate who built his conservatives confides fighting and defeating big labor in their birthplace state, will propose making every state right-to-work unless the state legislature votes otherwise.
"This will not be easy," Walker said in a statement to The Associated Press. "Many — including the union bosses and the politicians they puppet — have long benefited from Washington rules that put the needs of special interests before needs of middle-class families."
The proposal would essentially gut the landmark National Relations Labor Act adopted in 1935 and signed into law by President Franklin D. Roosevelt at the height of the Great Depression. Yet, in many respects, Roosevelt, a progressive icon, would be proud. The Left's favorite president adamantly opposed collective bargaining for public sector unions and wouldn't even recognize the modern day NLRB, which the Supreme Court has ruled overstepped it's authority during the Obama administration.
"All Government employees should realize that the process of collective bargaining, as usually understood, cannot be transplanted into the public service," the former president wrote in an Aug. 16, 1937 letter to Luther C. Steward, the president of the National Federation of Federal Employees,. "It has its distinct and insurmountable limitations when applied to public personnel management. The very nature and purposes of Government make it impossible for administrative officials to represent fully or to bind the employer in mutual discussions with Government employee organizations. The employer," Roosevelt's letter added, "is the whole people, who speak by means of laws enacted by their representatives in Congress. Accordingly, administrative officials and employees alike are governed and guided, and in many instances restricted, by laws which establish policies, procedures, or rules in personnel matters."
In 1937, a reporter directly asked Roosevelt "whether he favored government employees joining unions to the extent of collective bargaining with the government." Roosevelt responded by stating that public employees' "pay is fixed by Congress and the workmen are represented by the members of Congress in the fixing of Government pay." At the end of news conference, Roosevelt was asked, "In other words, you would not have the representatives of the majority as the sole bargaining agents?"
"Not in the government," Roosevelt responded, "because there is no collective contract. It is a very different case. There isn't any bargaining, in other words, with the government, therefore the question does not arise."
Walker's plan also calls for barring automatic withdrawal of union dues to be used for political purposes, and forbidding union organizers to access employees' personal information, such as their phone numbers. "I've never seen anything like this," Ann Hodges, a professor at the University of Richmond who has studied labor law for more than 40 years told Fox News. "This will take the breath away from anyone who's worked in labor relations for any length of time."
However, despite claims by Professor Hodges,  case law has already been moving in this direction. In June, the Supreme Court ruling in Harris v. Quinn dealt a significant blow to the effort to expand public employee unions, but it did not gut them. In a 5 – 4 vote, the Supreme Court ruled unions cannot force employees to contribute to unions, adding more woes to an already-challenged movement waning in political power.
The case surrounded Pamela Harris, a home health care worker, who served as the primary caretaker for her son, Josh, who has a rare genetic syndrome. She receives Medicaid funds and the unions argued that she essentially functions as a state employee. She said she never intended to gut public unions, but that she "wanted to preserve the relationship between family members," specifically a mother and a son, and a mother's right to take care of her son without compulsion.
Even before the widespread Democratic defeats down ballot in 2010 and 2014, 24 states had already passed right to work laws. Republicans are now in charge of 68 of the 98 partisan legislative chambers and control 30 state legislatures, which is the most they've held in 150 years, as well as hold a 31-18 gubernatorial edge nationally. Walker signed right-to-work legislation earlier in the year, making good on a long-made campaign promise despite shaky knees from state lawmakers in his own party.
With Democrats losing 11 more bodies in 2014 alone, including the Colorado Senate, the Maine Senate, the Minnesota House, the Nevada Assembly, the Nevada Senate, the New Hampshire House, the New York Senate, the New Mexico House, the Washington Senate, and both the West Virginia House and Senate, Republicans are hoping to expand right to work in several other states.
Meanwhile, Walker's proposal comes as he slides both nationally and in the early battleground caucus state of Iowa, where he was once the odds-on favorite. But, it remains early in the race, and the 47-year old Wisconsin governor is used to long odds. Walker is the first governor in American history to survive a recall election, which he won by a greater margin than his original bid for governor, and was elected three times in fours years despite the Democratic onslaught.
"None of this intimidates us," Walker said at a recent campaign appearance. "I think if people are looking for someone who is truly going to shake things up and wreak havoc on Washington, they want someone who's got real solutions and someone who is truly tested. I'm the only one on that stage that fits the bill."