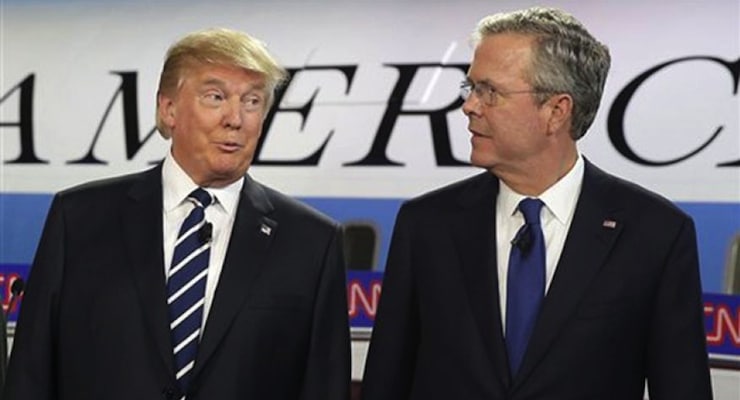 Frontrunner Donald Trump was the clear target in the CNN GOP debate at the Ronald Reagan Presidential Library in Simi Valley, California Wednesday night. However, despite the best efforts of several candidates on the stage, The Donald came out of several heated exchanges unscathed. In one of the more entertaining and revealing moments of the night, when the candidates were discussing the Iraq War, Trump blamed Gov. Jeb Bush's brother, former President George W. Bush, for the election and subsequent presidency of Barack Obama.
"It was such a disaster those last few months that Abraham Lincoln couldn't have been elected," Trump said.
Though Bush received the loudest applause of the night when he defended his brother, stating he "kept us safe," the Florida-based focus group PPD has been tracking for over a month indicated Trump still got the better of the exchange. But voters were happy to hear Bush's post-9/11 actions as president defended by the former Florida governor, who has waffled on the most predictable issue on several occasions.
"You feel safe right now?" Trump asked.
Interestingly, far and away, New Jersey Gov. Chris Christie changed the most minds on a percentage basis. Christie went from being viewed as the second biggest loser of the first Republican debate hosted by Fox News in Ohio, to voters thus far indicating they believe he tied former Hewlitt-Packard CEO Carly Fiorina for winner of the second debate. The strongest moment in the debate for Gov. Christie came when he intervened between Trump and Fiorina when they were bickering over their private sector records, stating middle-class Americans "could care less about your careers" and called on the two to "stop this childish back and forth."
Fiorina's strongest moment came when she made an impassioned appeal to Congress to defund Planned Parenthood amid the release of undercover videos exposing the organization's trafficking of baby body parts.
"This is about the character of our nation," Fiorina said. "And if we will not stand up and force President Obama to veto this bill, shame on us."
Dr. Ben Carson, who has been running second in recent national Republican primary polls, also saw his numbers stay sideways. Overall, the two frontrunners did not give voters a reason to rule them out, nor did they generate further excitement. Worth noting, Trump's excitement levels and percentage of firm supporters are significantly higher than other candidates in the field, including Dr. Ben Carson.
Unlike Trump supporters, a significantly number of voters currently supporting Carson say Wisconsin Gov. Scott Walker is their second choice. PPD will release a full write up and analysis of our findings from our Sunshine State focus group, as well as the results from snap polls on Thursday afternoon.