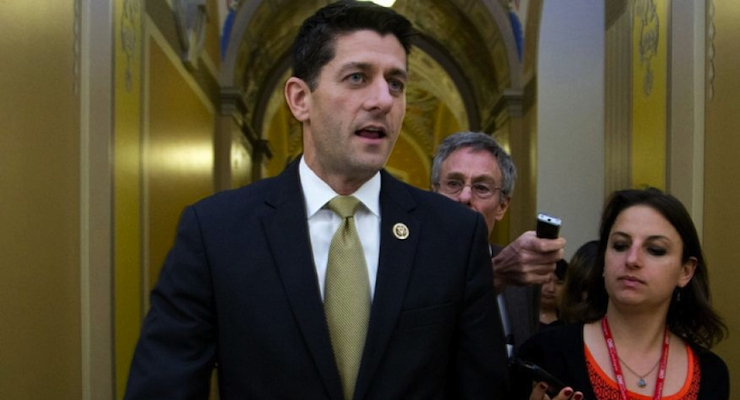 Under Reconciliation, GOP Leaders Could Pass the Senate Bill With 51 Votes
The Republican-controlled House passed a bill Friday that would gut ObamaCare and defund Planned Parenthood under reconciliation, passable in the Senate with 51 votes. Even though it faces a certain veto from President Obama should it reach his desk, the move represents a change in strategy that has long been advocated by conservatives in Congress.
The bill easily passed 240-189, though Democrats voted to continue to fund an organization that has a surplus each year, let alone not in need of federal funding. Still, there is no guarantee that all 54 Senate Republicans will back it. Moderate Republicans, or ones who aren't concerned with keeping their campaign promises, as all promised to defund ObamaCare, may say it goes too far. Meanwhile, more conservative GOP senators running for president, all trying to top the other, are likely to say it doesn't to enough to push back on the Obama agenda.
However, there is still a wildcard. President Obama vetoed the defense spending bill, which is the first time any president in modern history vetoed a basic stand alone appropriation measure, simply because he wants to squeeze out more money for unrelated programs. The unprecedented move infuriated moderate Republicans such as Sen. John McCain, R-Ariz., who said he has never seen a president play politics with defense in all the years he has been in the Senate.
Yet, the bottom line is that House Republicans believe the bill is the best way to paint bold political differences with Democrats for next year's elections.
"This is our best opportunity to date to put the bill on the president's desk and show the American people where his priorities lie," said Rep. Diane Black, R-Tenn.
"The legislation would eliminate the health law's requirements that most people who don't have employer-provided health coverage buy individual policies, and that most companies provide medical insurance. It would also eliminate the statute's taxes on medical devices and high-priced insurance policies."
It also prevents Planned Parenthood from getting federal money for a year — the GOP response to undercover videos recently released that showed PPFA officials describing how they alter abortion procedures to better traffic in aborted baby body parts with researchers for fetal tissue, both of which are illegal.
"This is a hyper-partisan document that is just talking points for extremists," said Rep. Ted Lieu, D-Calif. In truth, federal funding for late-term abortion in the extremist position in the country, according to a dozen recent polls tracked by PPD's Election Projection Model.
In a statement promising Obama's veto, the White House said the GOP measure "would take away critical benefits and health care coverage from hard-working middle-class families."