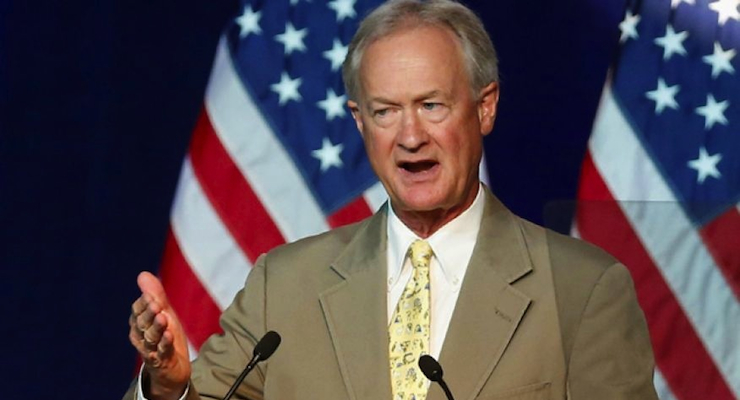 Former Rhode Island Gov. Lincoln Chafee dropped his 2016 bid for president Friday, further shrinking the already thin and arguably weak Democratic field.
Chafee announced his decision at a Women's Leadership Forum conference where other candidates also were speaking.
"After much thought I have decided to end my campaign for president today," Chafee said, while reminding the audience of his "prosperity through peace" campaign slogan. Appealing for less U.S. military intervention abroad, he said: "I would like to take this opportunity one last time to advocate for a chance be given to peace."
The former Rhode Island governor and former senator, initially a Republican-turned-independent-turned sort of Democrat, had a hard time on the campaign competing against Clinton as well as liberal Vermont Sen. Bernie Sanders. Chafee is currently polling at just 0.3% on the PPD average of Democratic nomination polls nationwide.
In last week's Democratic debate Chafee referred to himself as a "block of granite" when it came to issues and said he was most proud of his judgment, particularly his vote against the Iraq war. But his performance was widely panned due to his stumbling over questions about his record and his reason for seeking the presidency — even as he was perhaps the most critical of Clinton on stage.
Gov. Chafee raised only $11,000 in the third fundraising quarter, an abysmal sum compared to the $28 million and $26 million hauls by Clinton and Sanders, respectively. In fact, the vast majority of his money came from the $360,000-plus he has loaned to his own campaign.
Earlier this week, former Virginia Sen. Jim Webb also ended his bid for the Democratic nomination, though he left the door open to run as an independent. The decisions leave only Clinton, Sanders and former Maryland Gov. Martin O'Malley as major candidates in the Democratic field.