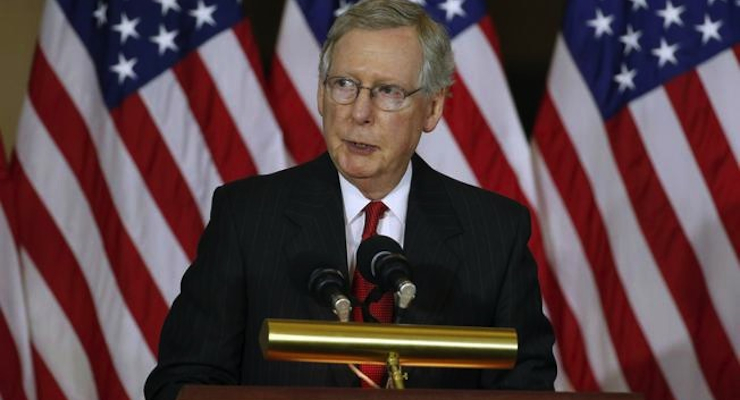 While the American people were sleeping, the Senate passed the two-year budget deal negotiated with the White House, increasing spending by $80 billion over the remainder of President Obama's tenure. The bill will now go to the president for his signature.
The final 64-35 vote, which occurred just after 3 a.m. EDT, saw Democrats join up with big spending Republican defense hawks despite the best efforts of GOP presidential candidates, including Texas Sen. Ted Cruz, Kentucky Sen. Rand Paul, and Florida Sen. Marco Rubio. The bill was sold as a way to avert a debt default, avoiding a partial government shutdown and minor entitlement reform.
"This deal represents the worst of Washington culture," said Sen. Paul, who vowed to lead the filibuster against what he called an "unholy compromise between right and left that is spending us into an oblivion."
Sen. Cruz said the Republican majority, which was just elected into office by the American people on the promise to stop out of control spending in D.C., had given Obama a "diamond-encrusted, glow-in-the-dark Amex card" for government spending.
"It's a pretty nifty card," Cruz said. "You don't have to pay for it, you get to spend it and it's somebody else's problem."
Outgoing House Speaker John Boehner, R-Ohio, said it was a "good deal" juxtaposed to the alternative, which was another continuing resolution (CR) and potential shutdown showdown with the president. Obama became the first modern president to veto a defense bill in order to squeeze the GOP for more spending. Ultimately, as Boehner said in a press conference on Tuesday, the deal aimed to "clean the barn" for the new House Speaker Paul Ryan, R-Wis., and avoid big fights with conservatives, who are furious.
"House Speaker John Boehner is a lame duck so he has nothing to lose, and Senate Majority Leader Mitch McConnell is desperate to avoid any confrontation with Democrats before the next election," Senate Conservatives Fund President Ken Cuccinelli said in an email Wednesday morning. "This is exactly why so many Americans disapprove of the GOP leadership. Instead of fighting for less government and more freedom, the Republican establishment is more interested in political posturing."
The 144-page deal, which was just written late Monday, was pushed through in less than 100 hours. That works out to more than $1 billion in new spending for every hour the bill was available for research, discussion and debate, or $558 million per page. However, the debt ceiling increase represents a far greater amount. In fact, the 16-month debt limit pass would work out to more than $1 trillion in new borrowing — or $13 billion for each hour Congress considered the bill.
Democrats, across the board, praised the deal starting with the White House. President Obama said the deal will "break the cycle of shutdowns and manufactured crises" that he and Congress have been through the last few years.
"This agreement will strengthen the middle class by investing in education, job training and basic research. It will keep us safe by investing in our national security," he said.
Vermont Sen. Bernard Sanders, a self-proclaimed socialist running against frontrunner Hillary Clinton for the Democratic nomination, also voted for the deal. Democratic National Committee Chairwoman Debbie Wasserman Schultz said the GOP candidates who opposed the debt hike had shown they weren't up to winning the White House.
"Raising the debt limit and passing a budget are non-negotiable responsibilities of our leadership," she said. "Our constituents elect us to be their voice and their vote, not to play politics for political gain. There is nothing presidential about failing to pay your bills and jeopardizing our standing in the world economy.
However, according to a new AP-GfK poll, 50% of Americans believe Congress should only increase federal borrowing authority if government spending is substantially cut, 11 percent believe the debt limit should not be raised under any circumstances, and only 35% believe the debt limit should be raised by itself with no guaranteed spending cuts. But that is not at all what this bill will do or what it was designed to do.
The budget deal eliminates the caps mandated in the Budget Control Act, sometimes referred to as sequestration, regarding the appropriated spending by $50 billion in 2016 and $30 billion in 2017. The increase is evenly divided between defense and domestic spending, illustrating the "unholy alliance" Sen. Paul was noting. Further, roughly $16 billion more each year is tacked on as inflated war spending is also evenly split between the Defense and State departments.
The cuts hit Medicare payments for outpatient services provided by certain hospitals and an extension of a 2% cut in Medicare payments to doctors through the end of a 10-year budget. In reality, it is just a cut in the rate of increased payment amounts and whatever savings are already used on domestic and discretionary spending. There's also a cut to the Strategic Petroleum Reserve, and from a Justice Department fund for crime victims that involves assets seized from criminals.
That money, as well, will also be appropriated in domestic spending.