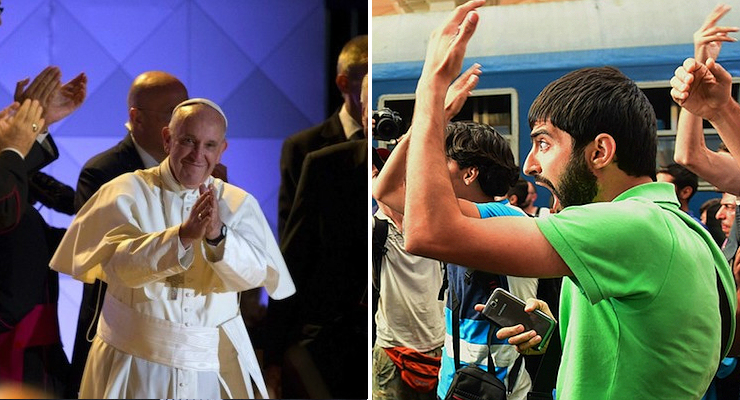 In an hour-long inflight news conference on his way from Juarez to Rome, Pope Francis said Donald Trump was "not Christian if he" "thinks only about building walls" and not bridges. The Republican frontrunner called his comments "not very nice" and "a disgrace," pointing out the Vatican City is completely enclosed by walls and how it is ISIS's top target.
The Islamist army has made multiple execution videos vowing to attack and takeover the Vatican, as well as other European powers via mass immigration, or Civilization Jihad.
"If and when the Vatican is attacked by ISIS, which as everyone knows is ISIS's ultimate trophy, I can promise you that the Pope would have only wished and prayed that Donald Trump would have been President because this would not have happened," Trump said in a statement. "ISIS would have been eradicated unlike what is happening now with our all talk, no action politicians."
Here is the full question and answer:
Phil Pullella, Reuters: Today, you spoke very eloquently about the problems of immigration. On the other side of the border, there is a very tough electoral battle. One of the candidates for the White House, Republican Donald Trump, in an interview recently said that you are a political man and he even said that you are a pawn, an instrument of the Mexican government for migration politics. Trump said that if he's elected, he wants to build 2,500 kilometers of wall along the border. He wants to deport 11 million illegal immigrants, separating families, etcetera. I would like to ask you, what do you think of these accusations against you and if a North American Catholic can vote for a person like this?

Pope Francis: Thank God he said I was a politician because Aristotle defined the human person as 'animal politicus.' At least I am a human person. As to whether I am a pawn, well, maybe, I don't know. I'll leave that up to your judgment and that of the people. And then, a person who thinks only about building walls, wherever they may be, and not building bridges, is not Christian. This is not in the Gospel. As far as what you said about whether I would advise to vote or not to vote, I am not going to get involved in that. I say only that this man is not Christian if he has said things like that. We must see if he said things in that way and in this I give the benefit of the doubt.
Mr. Pullella wasn't exactly honest in his question and, despite perhaps once again going overboard, at least Pope Francis gave Trump "the benefit of the doubt." Whether Republican primary voters agree with The Donald or not, or rather support him or not, the response is nearly unanimous in his favor. In fairness, here is the rest of the Trump's response.
The Mexican government and its leadership has made many disparaging remarks about me to the Pope, because they want to continue to rip off the United States, both on trade and at the border, and they understand I am totally wise to them. The Pope only heard one side of the story – he didn't see the crime, the drug trafficking and the negative economic impact the current policies have on the United States. He doesn't see how Mexican leadership is outsmarting President Obama and our leadership in every aspect of negotiation.

For a religious leader to question a person's faith is disgraceful. I am proud to be a Christian and as President I will not allow Christianity to be consistently attacked and weakened, unlike what is happening now, with our current President. No leader, especially a religious leader, should have the right to question another man's religion or faith. They are using the Pope as a pawn and they should be ashamed of themselves for doing so, especially when so many lives are involved and when illegal immigration is so rampant.
You might have noticed that Pope Francis didn't exactly argue the point he is being used as a pawn. But that's not the only controversial statement he made. He also told Catholic lawmakers it is okay to support gay marriage, which will no doubt have the Vatican City up-in-arms upon his arrival.