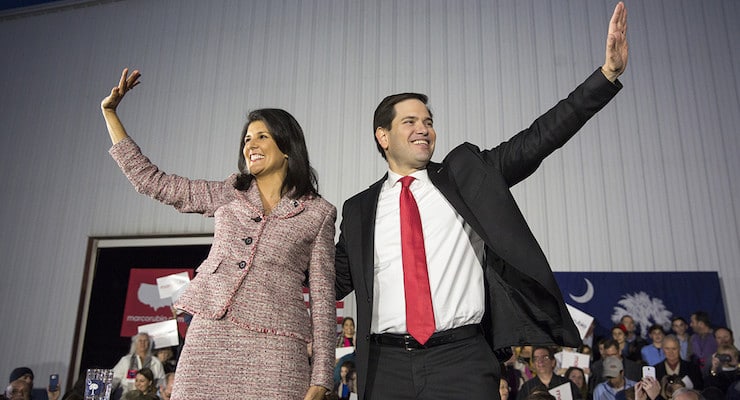 South Carolina Gov. Nikki Haley endorsed Florida Sen. Marco Rubio ahead of the state's Republican primary and only weeks after admitting he supports amnesty. The endorsement also comes just one day after the governor said she was gearing up to endorse "anyone but Trump," the national frontrunner currently leading on the PPD average of South Carolina Republican primary polls by nearly 20 points.
"I'm a military wife of a combat veteran," Haley said at a Rubio rally in Chapin, a town outside the capital Columbia. "I want a president who is going to have the backs of military veterans and those on active duty."
Haley also indirectly criticized Trump in what many called a cheap shot in her response to President Barack Obama's final State of the Union speech. Haley tried to clarify that there are also other areas where she doesn't see eye to eye with other Republican candidates.
"I have disagreements with other presidential candidates," Haley said. "Marco Rubio believes in amnesty, which I don't. There's lots of things."
However, Gov. Haley quickly walked back the statement in an interview with Fox News.
"I'm against his Gang of Eight bill. He is not for amnesty, but I was against his Gang of Eight bill," she said, referring to the amnesty bill backed by Rubio in the Senate. The bill sparked an all-out revolt before the 2014 midterm elections among the base and the bill was defeated.
"It's been a long couple of days," she said. "What I said was that I didn't agree with him — I meant what I didn't agree with him was on the Gang of Eight bill. I said that he wasn't for amnesty. That's not what I meant. What I meant was that he supported the Gang of Eight bill and I did not."
It is unclear whether the endorsement from Haley will do much to help Rubio in the final days of the campaign before the voting starts on Saturday. He had already secured most of the power players in the Palmetto State, including the very popular Sen. Tim Scott and Rep. Trey Gowdy, the chair of the House Select Committee on Benghazi.
Nevertheless, according to the PPD Election Projection Model, Trump has a 76% chance of winning the South Carolina Republican primary on Saturday.