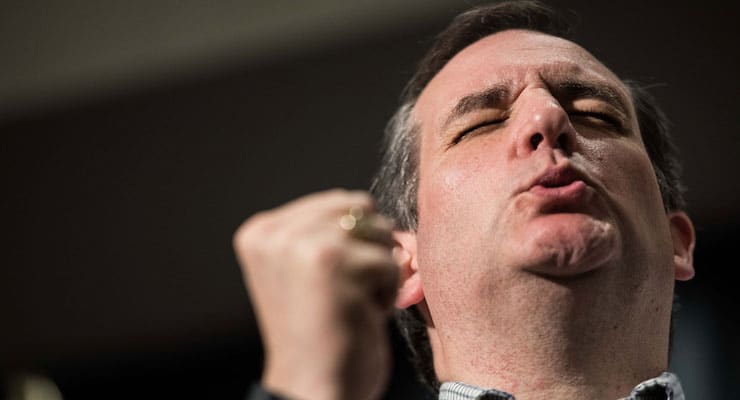 An unnamed staffer for Texas Sen. Ted Cruz allegedly told CNN Monday before the Nevada Republican caucus that he thought "his [Cruz's] campaign is done."
"The Cruz campaign has to focus on getting basic campaign techniques right," an unnamed "Republican operative" in the Cruz campaign told CNN. "I don't think Cruz can win the nomination at this point. I think his campaign is done."
However, the staffer's comments came after Cruz finished in a disappointing third place in South Carolina, where evangelical or born-again Christians made up 74% of the Republican primary electorate. Donald J. Trump was so dominant across the state, including among white evangelical voters, he turned the Palmetto State into a winner-take-all, capturing all 50 of the state's delegates.
While PPD's senior political analyst Richard Baris argues the results suggest Cruz likely will not perform as well on Super Tuesday as his campaign and supporters hope, he said there was still a chance for the senator to make a change. But that was before the results of the Nevada Republican caucus, in which Trump won with 46% by increasing–not decreasing–his share of Cruz's targeted core voting blocs.
"Trump broke his ceiling and attracted thousands of new voters who pollsters completely missed, not once but twice. He also increased his share of the vote among groups Cruz and, to a lesser extent, Florida Sen. Marco Rubio need," Baris said. "The laws of statistics and American voters don't behave the way the media pundits seem to believe or expect. The anti-Trump vote is still a slight majority but very weak and shrinking by the day. Possibly by the hour."
Trump won the Nevada Republican Caucus in a landslide, dominating across every single demographic and breaking his media-declared "ceiling." But Sen. Rubio also beat Cruz, 23.9% to 21.4%. The Donald once again beat Cruz on his own turf, casting further doubt on the Texas senator's path to victory moving forward. White evangelicals backed Trump (40%) over Cruz (27%), while evangelicals overall gave the winner a slightly bigger 40% to 26% margin.
Sen. Cruz pushed back on Tuesday night and Wednesday morning against claims made by the Rubio campaign. Citing Iowa, he argued he is the only candidate in the race that can and did beat Trump. However, Rubio began to push the narrative following the caucus that he is the only conservative in the race who can unite the party factions, activist and establishment alike. The Florida senator added the usual caveat by raising the allegations of cheating and dirty tricks on behalf of the Cruz team.
Mr. Cruz announced Monday he had fired his communications director Rick Tyler, who pushed a false story on social media claiming that Rubio made derogatory statements about the Bible. In reality, he made comments to the exact opposite. But the story followed a series of others, including one that casts real doubt on whether Sen. Cruz would've even beat Mr. Trump in Iowa had his caucus captains not been instructed to falsely tell caucus-goers that Dr. Ben Carson dropped out of the race. They pushed them to support Mr. Cruz, instead.
Further, in South Carolina, Rep. Trey Gowdy, R-S.C., was furious with the Cruz campaign and its allies for what he called "outright lies" and engaging in "underhanded tactics" during the days leading up to the South Carolina Republican primary. Rep. Gowdy, a former federal prosecutor and chairman of the House Select Committee on Benghazi, previously endorsed Rubio. He said there has been a "systematic effort by Sen. Cruz and his allies to spread false information."
But time is running out for both senators to stop The Donald, who received more votes than both Sens. Cruz and Rubio combined on Tuesday in Nevada. In Rubio's own home state, he trails Mr. Trump by double-digits and, even if 100% of former Florida Gov. Jeb Bush's voters were to get behind him, he'd still lose the Sunshine State by nearly 20 points, according to polls.
"The Republican Establishment is pushing others, including Ohio Gov. John Kasich and Sen. Cruz to get out of the race and give their supporters to Sen. Rubio," Baris added. "But that's not how it works, particularly this year. We are now getting to a point where a small number of supporters from each candidate is more than enough to get Mr. Trump to a majority of the popular vote."
Regardless, the reality, as Baris outlined on Tuesday, is that Mr. Trump can win an outright majority of delegates with a rather small plurality of the Republican primary vote. In fact, he can win with as little as a third of the vote.
"The party better be careful what they wish for. They've been wrong all cycle and they're wrong on this," Baris concluded. "While Sen. Cruz's path has narrowed significantly, he just may have a better shot then Sen. Rubio to stop Mr. Trump. Our research shows Cruz voters will disproportionately back the outsider, not the Florida senator or any candidate touting mainstream endorsements from the very pols Republican primary voters want to tar and feather this cycle."