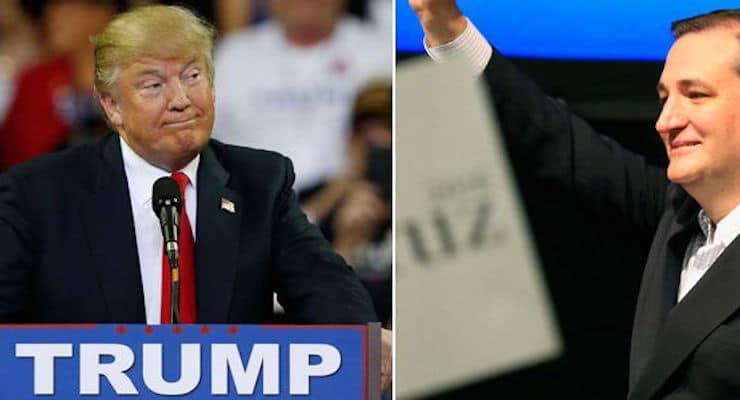 The establishment has lined up behind Sen. Ted Cruz in a last-ditch effort to stop front-runner Donald J. Trump from amassing enough delegates to clinch the Republican nomination. The plan, which uses both Sen. Cruz and Ohio Gov. John Kasich as pawns without a guarantee, is to prevent Mr. Trump from reaching 1,237 delegates on or before June 7, when key contests are held.
The conventional wisdom, which was recently outlined in National Review, holds a contested convention favors Sen. Cruz. Putting aside recent PPD reports underscoring how the Texas senator is nothing but a means rather than an end for those recently backing him, Mr. Trump does in fact have a detailed plan and team in place to lock up the nomination if he finishes shy of 1,237 delegates.
The campaign's internal projections show Mr. Trump will finish the primaries with about 1,450 delegates, which is higher than the PPD Election Projection Model. According to the head of the model, the odds are still in his favor.
"To be clear, we believe Mr. Trump is more likely to clinch the nomination than not," said PPD's senior political analyst Richard Baris. "Our estimates put him over the top by 3 to 10 delegates. But I wouldn't consider him a man without a plan if I was Sen. Cruz or the rest of the party elite."
In fact, he does and it's already on the move.
The team is led by Barry Bennett, the former campaign manager for Dr. Ben Carson. Bennett is in charge of a two-phase plan to ensure his nomination and works with a team that includes general counsel and former FEC commissioner Don McGahn, former aides to Dr. Carson such as Jason Osborne, who handled floor operations at past conventions, and Ed Brookover, a former RNC political director with deeply held ties to Washington Republicans.
The first phase focuses on the roughly 40-day window beginning after the last primary on June 7 and before the convention starts on July 18, which will be used to woo and lock down delegate commitments. The campaign will obtain signed, public commitments from those delegates in June, which will send a signal to the remaining anti-Trump forces that he will be the nominee and, frankly, to get over it and unify.
In this scenario, Mr. Trump would win a majority of delegates on the first ballot in Cleveland, thus, the nomination. Some members of the RNC rules committee are attempting to thwart this plan by nixing rule 40-b, which requires a candidate to win a majority of the delegates in eight contests in order to be considered on the ballot.
The second phase includes a plan to ensure every delegate pledged to Mr. Trump on "the first ballot stays a Trump delegate on the second ballot," a source told PPD.
"I think the mistaken impression is that they weren't playing by the traditional rules before," a campaign staff member, who spoke on condition of anonymity told NBC News, as well. "One of the pleasant surprises I had, when I joined, was that the state directors were already engaged in the process."
A large part of the process involves a battle of public perception, one which polls show he is already winning. The idea is to make any process that denies him the nomination be perceived by the public as unfair, which two polls–including one conducted by A-rated Selzer & Co. for Bloomberg–already confirm is the case.
As PPD reported last week, a growing number of RNC members believe that an electoral disaster is more likely to follow such a scenario than if Mr. Trump is nominated by the party.
In fact, internal polls conducted for the RNC show GOP candidates up and down the ballot performing worse with Sen. Cruz at the top of the ticket than Mr. Trump. The surveys, which are larger samples, make assumptions based on the actual voting patterns than traditional methods used by public pollsters.
The expectations game is starting to take a toll, even as figures such as Sen. Lindsey Graham and former Florida Gov. Jeb Bush offer their endorsements. An RNC official working on convention planning told NBC News that party insiders increasingly expect Mr. Trump to be the nominee, which impacts how hard people really want to push a lost cause.
"Lee Atwater always told us, 'If it's happening, be for it,'" said the official, speaking on the condition of anonymity. "This is happening."