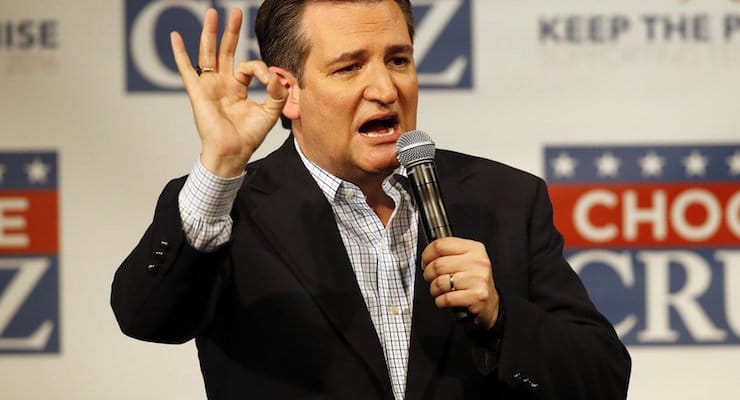 Texas Sen. Ted Cruz has easily won the Utah Republican Caucus, defeating Donald Trump and John Kasich by taking nearly 70% of the vote and all 40 delegates. Yet, with Trump's big win in Arizona hauling in 58 delegates, Tuesday night was a net loss for Sen. Cruz.
The Utah electorate, which was more than 90% mormon, represents one of the last best chances for Sen. Cruz to put a big win on the board. Former Massachusetts Gov. Mitt Romney told Utah caucus-goers and Arizona Republican primary voters in a robocall to support Sen. Cruz and not to vote for Ohio Gov. John Kasich. Romney, the 2012 Republican nominee who was just campaigning for Gov. Kasich in the Buckeye State, said a vote for the governor was a vote for frontrunner Donald J. Trump.
On Wednesday morning, former Florida Gov. Jeb Bush has endorsed Texas Sen. Ted Cruz for president, calling him "a consistent, principled conservative who has demonstrated the ability to appeal to voters and win primary contests."
However, the terrain for the frontrunner is going to get more friendly moving forward.
In New York, which holds its primary on April 19, a recent poll conducted by [content_tooltip id="38226″ title="Emerson College Polling University"] finds Mr. Trump leading his closest rival Sen. Cruz 64% to 12%, making the frontrunner the only Republican candidate to receive majority support among voters in his own state. While both Sen. Cruz and Gov. Kasich won their respective home states, they did so with a less-than impressive margin of victory.
Mr. Trump leads by a smaller 54.5% to 11.5% on the PPD average of New York Republican primary polls, but if it holds is still sufficient to force the Empire State into a winner-take-all for 95 delegates.
Trump is looking forward to contests in California (172), New Jersey (51), Indiana (57), Pennsylvania (71) and other delegate-rich states where he is favored to win. On April 5 in Wisconsin, which awards 42 total delegates on a winner-take-all basis, the state of the race is unclear from polling. Demographically, as was the case in Michigan, a large number of working-class voters could work in Trump's favor.
Going into Tuesday's contests, Trump led Texas Sen. Ted Cruz in the delegate count 681-425. Trump now leads his rivals on the delegate count with 739 to 465.