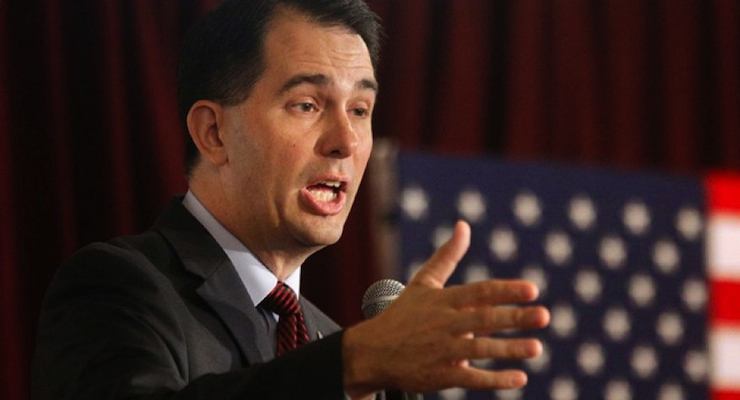 Wisconsin Gov. Scott Walker endorsed Texas Sen. Ted Cruz for president Tuesday morning, a week ahead of the Republican primary in The Badger State. The governor made the announcement in an interview on Milwaukee radio station, Newsradio 620 WTMJ.
Sen. Cruz is hoping that Gov. Walker's endorsement puts him at an advantage ahead of the primary on April 5. While he has a formidable GOTV operation, the Wisconsin governor dropped out of the 2016 presidential race in September of last year, after a mere 71 days of campaigning and before any of the voters even went to the polls. Gov. Walker was one of many now that took on Donald Trump rather than the issues of the race, and lost.
The Republican front-runner responded to the endorsement, which everyone knew was coming as part of the party's effort to deprive Trump of the needed 1,237 delegates necessary to clinch the nomination, prior to the announcement.
After the way I beat Gov. Scott Walker (and Jeb, Rand, Marco and all others) in the Presidential Primaries, no way he would ever endorse me!

— Donald J. Trump (@realDonaldTrump) March 28, 2016
Meanwhile, Wisconsin Republican Sen. Ron Johnson refused to rule out whether he would campaign with Mr. Trump. Sen. Johnson, who said he believes it is best to remain neutral in the presidential nomination, faces a significant challenge from the once-incumbent he defeated back in 2010–Russ Feingold.
"In many cases I think these endorsements backfire," Sen. Johnson said. "I pray every night I go to bed for a man with honor, integrity and courage. And that's it. I'll support whomever is the Republican nominee."