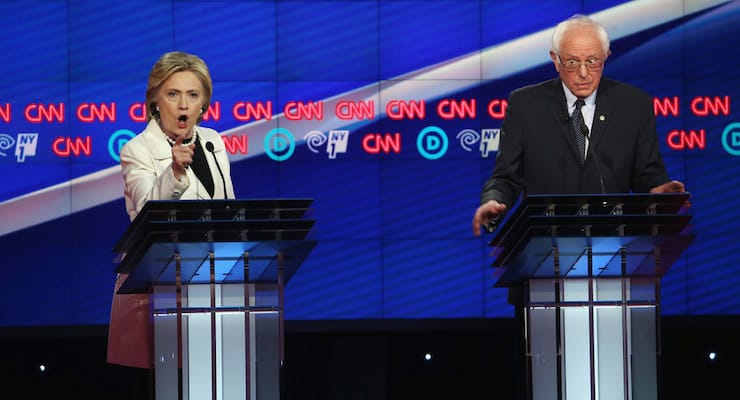 NEW YORK CITY, N.Y. — With only a few days before the pivotal New York Primary, Hillary Clinton and Bernie Sanders engaged in a two-hour shouting match at the Democratic debate hosted by CNN. Mrs. Clinton, who remains the frontrunner in the delegate count despite losing the last eight states, is hoping for a big win in her home state where polls have tightened considerably.
There were fireworks between the candidates over influence from Wall Street, gun control, race relations and the minimum wage. The tone of the campaign has grown more personal and intense over the last few weeks, as the election calendar approached the point the party and the frontrunner believes the nomination contest would be effectively over.
"Does Secretary Clinton have the experience and intelligence to be president? Of course she does, but I do question, I do question her judgment. I question a judgment that voted for the war in Iraq," the senator said in response to a question from CNN moderator Wolf Blitzer.
Sen. Sanders said last week that Clinton was "unqualified." Heading into Pennsylvania after New York, he also highlighted her votes in support of globalist trade deals and the her use of super PACs largely funded by big banks.
"I don't believe that that is the kind of judgment we need to be the kind of president we need," he said.
Mrs. Clinton fired back at Sen. Sanders' populist attack by invoking President Barack Obama, who remains popular among Democratic primary voters in the state and the nation as a whole.
"Well, it is true that now that the spotlight is pretty bright in New York some things have been said, and Senator Sanders did call me unqualified. I've been called a lot of things in my life, that was a first," the former secretary of state said. "Then he did say that he had to question my judgment. Well, the people of New York voted for me twice to be their Senator from New York, and President Obama trusted my judgment enough to ask me to be secretary of state for the United States."
Clinton, who clearly tailored her message to New York with her opening statement and throughout the night, defended her ties to Wall Street by comparing herself to Obama. In classic Sanders fashion, the senator held to his national populist message by repeating his oft-cited criticisms, including her paid speeches to big banks and super PAC-funding.
"Make no mistake about it, this is not just an attack on me," she said about Bernie Sanders' accusation that she is controlled by her donors. "It's an attack on President Obama.
The former secretary of state leapt at the chance to hit Sen. Sanders with the widely-circulated transcript of his interview with the New York Daily News editorial board earlier this month. The senator came across as shallow on foreign policy and even an issue central to his campaign–Wall Street greed. He couldn't answer how he would break up the "too big to fail" banks. The paper this week endorsed Mrs. Clinton and essentially characterized Sen. Sanders as ill-equipped and unfit for the job.
"When asked, he could not explain how that would be done," Mrs. Clinton said of the flub. "When asked, he could not explain how that would be done, and when asked about a number of foreign policy issues, he could not answer about Afghanistan, about Israel, about counter-terrorism, except to say if he had some paper in front of him, maybe he could. I think you need to have the judgment on Day One to be both president and commander in chief."
Still, Sen. Sanders landed a damaging blow after Mrs. Clinton said she called the banks out during a speech in her time in the Senate. The crowd, which was seemingly out-of-control at times, went wild at his response.
"Secretary Clinton called them out," Sen. Sanders said sarcastically. "Oh my goodness, they must have been really crushed by this. And was that before or after you received huge sums of money by giving speaking engagements? They must have been very, very upset by what you did."
In response, Mrs. Clinton repeated that she would release the transcripts of her paid speeches when both her Democratic and Republican opponents do, and asked why Sen. Sanders hasn't released his own tax returns.
"They are very boring tax returns," he said. "No big money from speeches, no major investments. Unfortunately – unfortunately I remain one of the poorer members of the United States senate."
Sen. Sanders also insisted that they are prepared by his wife Jane and promised to release his 2014 return on Friday.
The two Democratic rivals had previously cast themselves and the campaign dialogue as polar opposites to their Republican rivals. However, both engaged in personal and vicious attacks on the debate stage Thursday. Sen. Sanders at one point accused Mrs. Clinton of using a "racist" term, while she accused him of making big promises and using big talk without having the ability to deliver.
As she has done in the past, Mrs. Clinton attempted to land some blows on the issue of gun control, adding that his own Vermont has the highest per-capita number of guns that end up in New York crimes. The criticism, which she began to level earlier this week, is patently false and solicited laughter from the senator.
"It's not a laughing matter," she said in response to the chuckle.
Clinton then pivoted to Sanders' support for a bill supported by the National Rifle Association (NRA) that would restrict liability for gun manufacturers, something gun rights advocates and legal experts say is crucial to the preservation of the Second Amendment. The CNN moderators–Dana Bash and Mr. Blitzer–actually asked the senator on whether he owed the families of victims of the Sandy Hook massacre an apology. The daughter of the school's principal said as much, but Sen. Sanders held his ground.
"No, I don't think I owe them an apology," he said when pressed a second time. "They are in court today, and actually they won a preliminary decision. They have the right to sue, and I support them and anyone else who wants the right to sue."
And when the two candidates waded into the question of raising the minimum wage to $15, the tension ratcheted up further — with Sanders questioning Clinton's commitment to the movement and both talking over each other until Wolf Blitzer calmed them down: "If you're both screaming at each other, the viewers won't be able to hear either of you, so please don't talk over each other."
"Secretary Clinton said let's raise it to 12. There's a difference. By the way, what has happened is history has outpaced secretary Clinton, because all over this country people are standing up and they're saying 12 is not good enough, we need $15 an hour," said Sanders, before Clinton responded that she supported the effort but wants the efforts to be done locally.
"I think the secretary has confused a lot of people," said an angry Sanders.
---
291 Delegates: Proportional (April 19, 2016)
291 total delegates include 163 district, 54 at large, 30 Pledged PLEOs and 44 Unpledged PLEOs.
---
While Hillary Clinton was elected senator twice in The Empire State, Sen. Sanders feels he has a good chance to pull off an upset in the state where he grew up. The former secretary of state still holds a double-digit lead on the PPD average of New York Democratic Primary polls, but Sen. Sanders has closed the gap significantly. He sought to downplay expectations while at the same time has made remarks that appear he was predicting victory.
Worth noting, Sen. Sanders won his own adopted home state of Vermont with more than 84% of the vote.