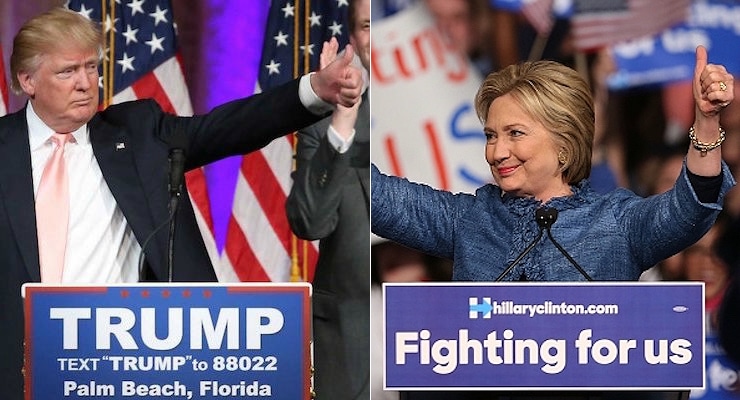 [brid video="33979″ player="2077″ title=""CROOKED HILLARY!" Trump vs Clinton will be the biggest voter turnout in US Election History"]
Donald Trump revealed the long-awaited nickname for his presumed Democratic rival in Watertown, New York, on Saturday–"Crooked Hillary." Mr. Trump has put his branding skills to work on his Republican rivals: "Lyin' Ted" for Ted Cruz, "Little Marco" for Marco Rubio, and "Low Energy Jeb" for Jeb Bush.
"And then of course we have Crooked Hillary folks," Mr. Trump said at his rally. "She's been crooked from the beginning and to think she has a shot at winning, we can't have it folks. Crooked Hillary."
The name might shaken Mrs. Clinton up already. In an interview on ABC's "This Week With George Stephanopoulos," Mrs. Clinton hoped to brush off the nickname that strikes at the heart of her unfavorable and trustworthy ratings in the polls.
"He can say whatever he wants to say about me, I really could care less," Clinton said. "I don't respond to Donald Trump and his string of insults about me."
Of course, Mrs. Clinton misspoke. The correct response would have been "I really couldn't care less." Nevertheless, the Republican frontrunner has begun to tweet out his new nickname ahead of the New York primary on Tuesday, representing a shift away from his GOP rivals.
Crooked Hillary Clinton is spending a fortune on ads against me. I am the one person she doesn't want to run against. Will be such fun!

— Donald J. Trump (@realDonaldTrump) April 17, 2016