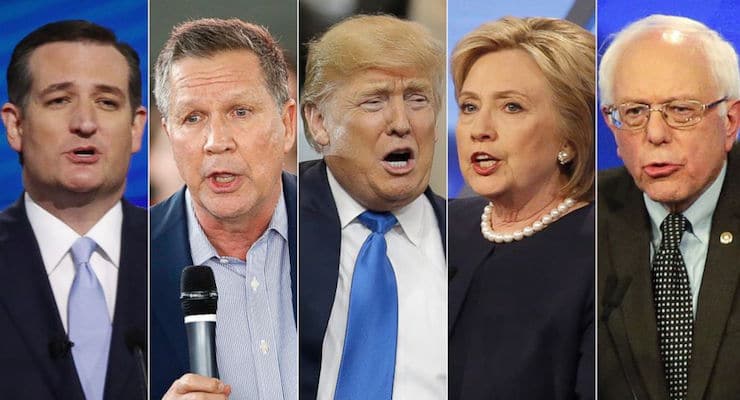 Front-runners Set to Bounce Back in Upcoming Primaries
After defeats in Wisconsin, frontrunners Donald J. Trump and Hillary R. Clinton hold leads in the upcoming primaries in New York, Pennsylvania and Maryland. A slew of new polling show a steeper hill to climb for The Badger State's winning candidates.
In New York, which votes first on April 16, Mr. Trump leads his closest rival Texas Sen. Ted Cruz on the PPD average by 36.2%. Worth noting, despite his decisive victory in Wisconsin or the telling voters Gov. John Kasich won't be on the ballot in The Empire State, Sen. Cruz has fallen to third. In the latest [content_tooltip id="38870″ title="Monmouth University"], Mr. Trump leads Gov. Kasich 52% to 25%, with Sen. receiving just 17%.
"If this result holds in every single congressional district, Trump will walk away with nearly all of New York State's delegates," said Patrick Murray, director of the independent Monmouth University Polling Institute.
In fact, if just those results hold, Mr. Trump would become the first candidate on the Republican side to win a majority in his home state. Sen. Cruz won just 43.8% of the vote in The Lone Star State, while Gov. Kasich came a bit closer in The Buckeye State with 46.8%. For comparison, Vermont Sen. Bernie Sanders won his home state with more than 86% of the vote.
A recent [content_tooltip id="38038″ title="Quinnipiac University (Q-Poll)"] released before Wisconsin had the New York businessman winning every single congressional district, while an [content_tooltip id="38226″ title="Emerson College Polling University"] had him above 64%. Whether he rebounds to his previous levels remains to be seen, but demographically speaking it is very possible that Mr. Trump hauls in all 95 delegates on his home turf.
On the Democratic side, Mrs. Clinton leads Sen. Sanders by 23.3% on the PPD average of New York Democratic Primary polls. However, that lead has narrowed to 10 and 11 points in the aforementioned surveys. Sen. Sanders has expressed confidence in his ability to win in the state where Mrs. Clinton served as senator after first lady. But demographics–specifically the black vote–do not favor the senator, though he is certain to pick up some of the state's 291 delegates.
On April 26, both parties will also hold their contests in Pennsylvania and Maryland.
For Republicans, Pennsylvania is a winner-take-all "loophole" primary, which is a different animal favoring insider candidates. However, Mr. Trump holds a significant 13.4% lead on the PPD average of polls in The Keystone State, making a rout if he pulls it off difficult to bury in delegate rules. While the numbers are tightening, the delegate-rich (71) state is very receptive to his message on trade.
Mrs. Clinton leads Sen. Sanders on the PPD average by 17.7%, but that lead too has begun to narrow. The self-proclaimed democratic socialist senator has hammered Clinton's support for the North American Free Trade Agreement, known as NAFTA, and promised Democratic primary voters that he would oppose the Trans-Pacific Trade Agreement. There are 210 delegates to be allocated proportionately in Pennsylvania.
"Wisconsin is a better fit for Sen. Sanders not only because it will almost certainly be whiter, but because Mrs. Clinton has stronger relationships with the Democratic Establishment and black community in Pennsylvania," says PPD senior political analyst Richard Baris. "That said, these contests are proportional and it is in the Rust Belt. He would be derelict not to compete for these votes."
In Maryland, Mr. Trump leads in the latest survey by 10 points and 13% on the PPD average. Sen. Cruz, as seems to be the case in New York, has collapsed and fallen behind Gov. Kasich in second with (24.5%). The state has a large amount of Catholic voters, a bloc Trump won in South Carolina and other states despite a public feud with Pope Francis, who criticized his position on immigration.
Mrs. Clinton holds a 14-point lead in the latest poll and a more sizable 24-point lead on the PPD average. Sen. Sanders has reached out to Black Lives Matter activists in Baltimore, but thus far has not been able to draw significant support from the black community away from Mrs. Clinton.
There are 38 winner-take-all delegates up for grabs on the GOP side and 118 on the Democratic side.
[AdsWithin]