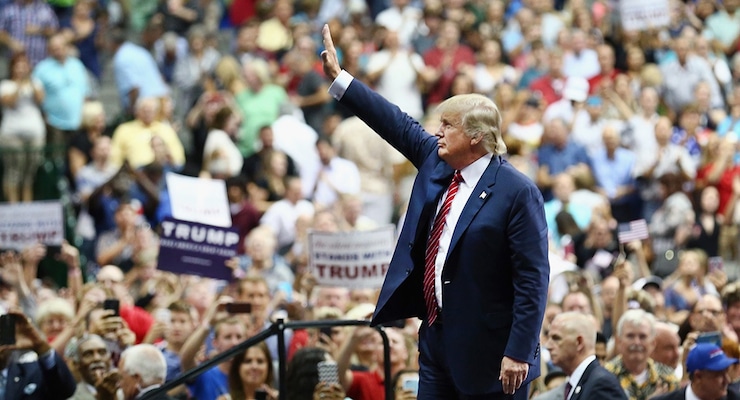 Republican frontrunner Donald Trump Wednesday outlined his "America First" foreign policy platform in a major address at the Mayflower Hotel in Washington, D.C. Less than 24 hours after rolling over his rivals in a five-state sweep on Tuesday, Mr. Trump called for the U.S. to take a new approach in the global arena and vowed "America First will be the major and overriding theme of my administration."
"It is time to shake the rust off of America's foreign policy," Mr. Trump said. "It's time to invite new voices and new visions into the fold."
The New York businessman slammed foolish interventions by both Republican and Democratic presidents that drained the nation's financial resources and failed to further any vital security interests. He said post-Cold War and current U.S. foreign policy has lost its way, calling it "a complete and total disaster" with "no vision, no purpose" and "no direction." In his speech, he identified what he said were "five main weaknesses in our foreign policy."
U.S. Resources Are Overextended
In "Myths of Empire," national security expert Jack Snyder warned the U.S. not to fall into the same trap as other nations. Judging by his speech, the Republican frontrunner shares the same concerns.
"President Obama has weakened our military by weakening our economy. He's crippled us with wasteful spending, massive debt, low growth, a huge trade deficit and open borders," Mr. Trump said. "We're rebuilding other countries while weakening our own."
He said the U.S. must end the "theft of American jobs" in order to ensure the resources necessary to rebuild the military and ensure financial independence.
U.S. Allies Not Paying Their Fair Share
While he drew sharp criticism from his rivals and other neocon elements in the Republican Party for proposing to reform NATO, he isn't backing down. He noted that only 4 of 28 other member countries, save for the U.S., are actually spending the minimum required 2% of GDP on defense.
"They look at the United States as weak and forgiving and feel no obligation to honor their agreements with us," Mr. Trump said. "The countries we are defending must pay for the cost of this defense – and, if not, the U.S. must be prepared to let these countries defend themselves."
In sit downs with The Washington Post and The New York Times, he had previously called for a total reformation of NATO, or the North Atlantic Treaty Organization. As he previously proposed, Mr. Trump said he would seek to reform the alliance, which was established and designed to meet the threat from the Soviet Union. He said it should be modernized and reflect the current challenges that face the U.S., such as global terrorism.
Allies Think They Can't Depend on U.S.
In his losing speech on Tuesday, Texas Sen. Ted Cruz again repeated the claim that Mr. Trump shares the same views on Iran as Hillary Clinton. Sen. Cruz has said he would "tear up" the Iran nuclear deal on day 1, which the frontrunner has called a dishonest claim. The money freed up by the nuclear deal is gone and no one, not even Sen. Cruz, can get it back.
Still, he sought to put an end to that criticism and propose another direction the U.S. should take moving forward, one that does not permit Iran to obtain a nuclear weapon.
"We've had a president who dislikes our friends and bows to our enemies," Mr. Trump said. "He negotiated a disastrous deal with Iran, and then we watched them ignore its terms, even before the ink was dry… Iran cannot be allowed to have a nuclear weapon and, under a Trump Administration, will never be allowed to have a nuclear weapon."
He added that in negotiations the U.S. must always be prepared to walk away, something President Obama and Secretary of State John Kerry were never willing to do. They viewed the deal as a legacy item and successful if it pushed the sunset provision past the Obama administration's tenure.
"The Iran deal, like so many of our worst agreements, is the result of not being willing to leave the table," Mr. Trump added. "When the other side knows you're not going to walk, it becomes absolutely impossible to win."
That is a central tenet in Trump's business practices, one which he outlined extensively in his best-selling book "The Art of the Deal." He went on to slam President Obama's ouster of a friendly regime in Egypt, one that respected a longstanding peace treaty with Israel and cooperated in the global war on terror. The result was a power vacuum that helped fuel the rise of the Muslim Brotherhood.
"President Obama has not been a friend to Israel," he added. "He has treated Iran with tender love and care and made it a great power in the Middle East–all at the expense of Israel… We've picked fights with our oldest friends, and now they're starting to look elsewhere for help."
Rivals No Longer Respect Us
It has become a popular, oft-cited claim among Republicans in Congress and elsewhere that friends no longer count on and enemies no longer respect the U.S., a narrative that the frontrunner expanded on Wednesday. He cited the president's recent trip to Cuba, during which he was snubbed at the airport by the communist dictator. Soon after the Islamic terror attacks in Brussels, Belgium, President Obama was doing the tango with a professional dancer in Argentina.
"When President Obama landed in Cuba on Air Force One, no leader was there to meet or greet him–perhaps an incident without precedent in the long and prestigious history of Air Force One," Mr. Trump said. "Then, amazingly, the same thing happened in Saudi Arabia–it's called no respect."
America First
It should come as no surprise that the overall theme to the speech was riddled with nationalist overtones. Despite the recent neoconservative domination of the Republican Party during the Bush years, the Trump America First foreign policy platform in fact represents a return to a less interventionist approach. It is the more traditional Republican approach that puts realpolitik at the forefront of policy.
"Many Americans must wonder why our politicians seem more interested in defending the borders of foreign countries than their own," Mr. Trump added. "Americans must know that we are putting the American people first again. On trade, on immigration, on foreign policy – the jobs, incomes and security of the American worker will always be my first priority."
"We will no longer surrender this country, or its people, to the false song of globalism."