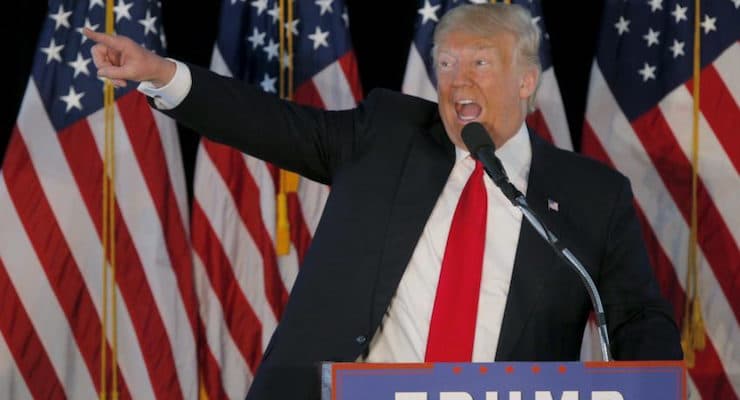 Donald Trump Carries All Five States by Large Majorities
Donald Trump has won the Pennsylvania, Connecticut, Maryland, Rhode Island and Delaware Republican primaries and is on track to win majorities in all five.
Pre-election day polling conducted by Gravis Marketing and PPP (D) found the frontrunner with double-digit leads in all five states, with Mr. Trump near or above 50% in each. With nearly all of the precincts reporting, Donald Trump has won every single county that voted on Tuesday. At the same time, Texas Sen. Ted Cruz continued to worsen among key demographics such as Catholics and women, hauling in just one delegate on the night.
Sen. Cruz lost "very" conservative voters to the New York businessman, a bloc that has been one of the bright spots for his campaign.
As was the case in the prior contests, Pennsylvania Republican primary voters were broadly supportive of Mr. Trump's main issues. More than 6 in 10 supported electing someone from "outside the political establishment" and banning non-U.S. Muslims from entering the country (7 in 10). Fewer voters, though still more than 4 in 10, also support deporting undocumented immigrants.
While the PPD Election Projection Model pegged Mr. Trump's delegate haul tonight at around 80, he appears to be headed for a 100 (even more) delegate haul. In The Keystone State, he is leading Ohio Gov. John Kasich in every single county and congressional district. The final results are noteworthy because, as we've repeated explained, the Pennsylvania contest is a loophole primary.
"While the wins aren't too much of a surprise, the size of the wins coupled with it being a clean sweep were," said Richard Baris, PPD's senior political analyst and director of the election projection model. "Gov. John Kasich got trounced even in counties his campaign was certain he would win. For Sen. Cruz, Pennsylvania was a complete disaster."
The Keystone State awards only 17 of its total 71 available delegates to the winner of the statewide vote, with the remaining delegates directly elected on a ballot. At last count, there are 55 delegates running who are committed to voting for the candidate who emerges the winner of their congressional district majority, while another 39 say they are committed to Mr. Trump.
Though 33 say they are committed to Sen. Cruz, 28 are uncommitted and only 1 supports Gov. Kasich, a big win would add pressure on the delegates in Cleveland, making Steel Town a potential ace up The Donald's sleeve.
"The system is a crooked system but the best way to beat the system is to have nights like this," Mr. Trump said. "This one may be the biggest one of them all."
"Cruz and Kasich should get out of the race and we should unify the Republican Party," he said in response to a reporter's question about whether he thought he was the presumptive frontrunner. "Now, I'm not saying everyone because some have gone over the edge, but we are going to unify and beat Hillary. It's not even going to be close."
In Connecticut, 16 out of the 28 total delegates are definitely heading for Mr. Trump's column, based on the current real vote tally and exit poll margins. In Delaware, the frontrunner won another 16 delegates. That brings his total preliminary delegate count to 921 to 559 for Sen. Cruz, who was shut out among delegates bound by votes.
The Trump campaign said they will now begin to pivot once again to the general election, focusing more on policy and his likely Democratic rival Hillary Clinton. He will give a foreign policy speech in Washington, D.C., which is scheduled for Wednesday. It was moved to the Mayflower Hotel "due to the overwhelming interest," Mr. Trump's campaign announced on Tuesday.
The campaign the speech will also focus on global trade and economic and national security policies. Mr. Trump is now scheduled to travel to Indiana to campaign later in the day Wednesday. If he wins in The Hoosier State, where polls give him an edge, it will be more than difficult for his rivals to continue to make the case against his candidacy. Sen. Cruz, specifically promised victory and Gov. Kasich has only enjoyed one; in his home state where he failed to even win a majority of voters.