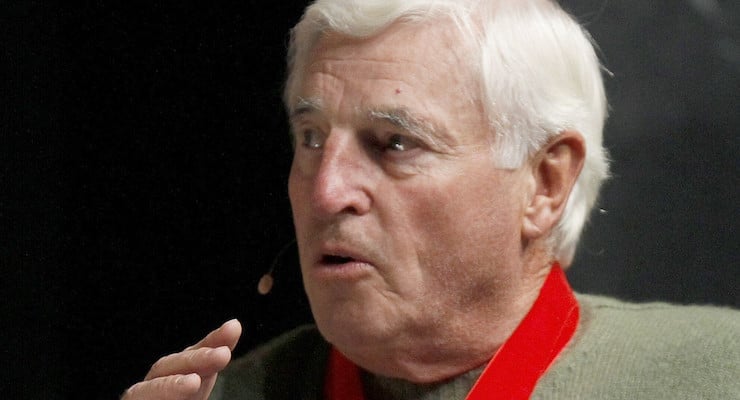 Fresh off his five-state sweep on Tuesday, Donald Trump is hitting the stump in Indiana with Bobby Knight, the former coach of the Indiana Hoosiers. Knight, nicknamed "The General," remains extremely popular in The Hoosier State, which holds its primary next Tuesday on May 3.
The state's demographics should bode well for Texas Sen. Ted Cruz, who has promised to repeat his win in Wisconsin. However, he currently trails Mr. Trump in the polls, though they have now consistently underestimated the frontrunner's support in the past seven voting contests.
The latest [content_tooltip id="37989″ title="FOX Poll"] conducted prior to Mr. Trump's five-state sweep found Sen. Cruz trailing by 8 points. The PPD average of Indiana Republican Primary polls shows a slightly closer race with Mr. Trump leading Sen. Cruz 39.3% to 33%, respectively.
As was the case in New York, the polls in the most recent contests did not reflect what is a precipitous drop in Sen. Cruz's support. In Pennsylvania, Maryland, Connecticut, Delaware and Rhode Island, Mr. Trump outperformed his polling support by upwards of ten points, carrying every single county in all five states.
"The demographics-only argument against momentum has hit a brick wall," said PPD's senior political analyst Richard Baris. "This was a monumental sweep by Donald Trump that cannot be explained solely by demographics. Sen. Cruz made an enormous mistake embracing the Republican Establishment and making public his alliance with Gov. John Kasich."
Indeed, for the first time ever this cycle, polling shows Republican primary voters now see Sen. Cruz as an establishment candidate, rather than an outsider. In this election cycle, being branded with that label is tantamount to receiving the kiss of death.
"He made a decision to outwardly embrace a lot of what was already going on behind the scenes and now he's paying the price," Mr. Baris added. "That's certainly part of what is behind the disparity between the polling and the results."
Meanwhile, Knight, the controversial former head coach who is known for throwing a chair across the court during a game, had been praising Mr. Trump for months before the endorsement.
"No one has accomplished more than Mr. Trump has," Knight said in an article published by The New York Times last October.
Mr. Trump will no doubt stress that record of accomplishment and his outsider status as he rails against U.S. trade and immigration policy in a state where both have negatively impacted American workers. Carrier, an Indianapolis-based manufacturing plant, announced in February that they will ship more than a thousand jobs to Mexico.
"You taking away from this community by taking this job, this plant away," Dominique Anthony, a Carrier employee who says he's worked at the west side facility for 13 years told reporters. "I have almost 16 family members that work there are Carrier. They have to go and tell our family that we have lost our jobs to feed our family."
The New York businessman teased the endorsement of the famous coach last weekend.
"Tough, strong, smart. I would like to get that for Indiana, I'll tell you what. To me, that would be a great endorsement," he said on Saturday.
In his victory speech in Indiana Tuesday night, Mr. Trump said he was the presumptive frontrunner and turned his attention to his likely Democratic rival Hillary Clinton. He slammed Mrs. Clinton's record on trade and her lack of experience in job creation.
"Hillary Clinton knows nothing about jobs except for the jobs she creates for herself," The Donald said. "She supports and her husband signed NAFTA (North-American Free Trade Agreement). She talks about phone calls? She was asleep when she got the 3:00 a.m. phone call from Benghazi."
Indiana lost 113,000 manufacturing jobs (or 18%) as a result the NAFTA-WTO period (1994-2015), according to the Bureau of Labor Statistics. The percentage of all private sector jobs that are directly in the manufacturing sector in Indiana fell from 28% to 20.2% during the NAFTA-WTO period.