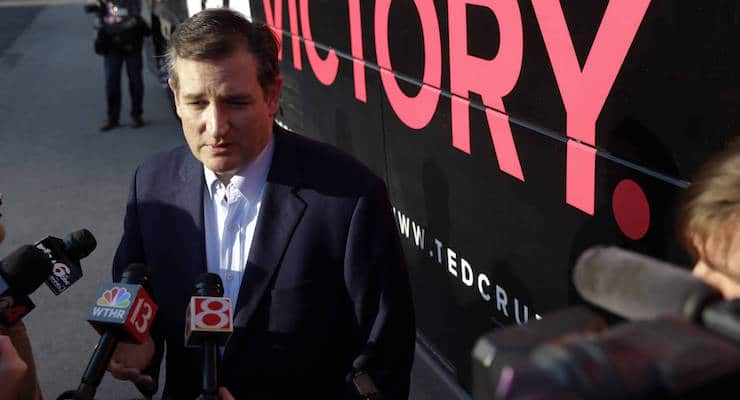 Indiana Republican primary voters head to the polls on Tuesday to decide the fate of Sen. Ted Cruz and the movement to stop Donald Trump from clinching the nomination. The Hoosier State has become the last stand for the Texas senator, who along with his allies, had hoped to repeat the success of the anti-Trump movement in Wisconsin.
Despite barnstorming the state on Monday, with their candidate holding ten separate events, campaign insiders are increasingly pessimistic about the situation they will wake up to on Wednesday morning. Following his sixth-straight loss last Tuesday, Sen. Cruz argued publicly and privately to supporters and donors that the race would shift back to favorable territory in the Midwest.
However, with the exception of one poll, the aggregate public and private polling data suggest Mr. Trump is headed for a campaign-ending win in Indiana. A new [content_tooltip id="39612″ title="Gravis Marketing"] released on Monday showed the New York businessman leading Sen. Cruz by 17 points, 44% to 27%.
While Cruz & Co. were hoping to repeat Wisconsin, the frontrunner was doing everything possible to avoid making the same mistake. A win in that state's primary would've given Mr. Trump a chance to end a protracted primary process, which he sees now and has done something he's been reluctant to do up until now.
Through April 26, Mr. Trump actually ran more broadcast television spots in the state of Indiana than Sen. Cruz, according to data from Kantar Media's CMAG. The Donald aired 1,249 spots in the state juxtaposed to 639 for Sen. Cruz. However, dominance in the air war overall still favors Sen. Cruz, who enjoys the support of outside groups either supporting him or opposing Mr. Trump.
Super PACs such as Trusted Leadership PAC, Club for Growth Action and Our Principles PAC, all have spent millions of dollars in the collaboration to deny Mr. Trump the nomination. In total, they've run a combined 1,227 spots in the state, the CMAG study revealed.
"Indiana is facing a unique moment in history: the opportunity to stop Donald Trump," Club for Growth Action president David McIntosh told PPD in an email before the launch. "After success with our ads in Wisconsin, Iowa, Oklahoma, and Utah, CFG Action is about to blanket the Hoosier State with a simple message: To stop Trump, vote Cruz. There is now no state more important than Indiana for electing Cruz and keeping Trump from reaching 1,237."
By comparison, Mr. Trump ran just 457 spots in the state of Wisconsin prior to that state's primary on April 5, one of only three primaries he has lost to Sen. Cruz. The Texas senator, together with those same pro-Cruz and anti-Trump groups that have aired ads in Indiana, ran a total 1,439 television spots in Wisconsin.
However, the anti-Trump forces didn't have the perfect anti-Trump storm that they had in Wisconsin, where local talk radio was united against him. Further, while Indiana Gov. Mike Pence offered a tepid endorsement of Sen. Cruz, which he tried to firm up on Sunday after praising Mr. Trump, he doesn't possess the GOTV operation that Gov. Scott Walker built. Gov. Walker, who remains more popular among state Republicans than Gov. Pence, had to win three elections in four years.
Further, if Sen. Cruz loses to Mr. Trump on Tuesday in Indiana, analysts say it would largely be attributed to the anti-Trump forces underestimating the anti-establishment mood among the electorate. While the deal struck with Ohio Gov. John Kasich was meant to deny Mr. Trump the 1,237 delegates needed to clinch the nomination, it is proving to be an asset. An [content_tooltip id="39829″ title="NBC/WSJ/Marist"], which was released on Sunday, showed that 58% of likely Republican primary voters in Indiana disapproved of the two candidates colluding to stop Mr. Trump.
The survey found Mr. Trump leading Sen. Cruz by 15 points, 49% to 34%. The results of both polls confirmed internal polling data obtained by PPD earlier this week.
"What we have seen between public and private polling is that Sen. Cruz has a low ceiling in the low 30s," said Richard Baris, PPD's senior political analyst. "The aggregate data doesn't suggest the same movement behind Sen. Cruz that we saw in Wisconsin."
There are 57 delegates up for grabs in Indiana on Tuesday May 3. While it's not a must-win for Mr. Trump–though it would make his path significantly easier–it has become the last stand for Sen. Cruz and the anti-Trump forces. Baris says if Sen. Cruz cannot pull off an upset in Indiana, other states that previously favored the senator such as Nebraska, Montana and Washington, could all begin to move further out of grasp.
"This is it. Game. Set. Match," said Baris. "That's the reality no matter what you hear from Mr. Cruz on Tuesday or even Wednesday morning. If Donald Trump beats the senator in Indiana on Tuesday, there are those previously loyal to the #NeverTrump movement that have told us it will be time to pack it in. If Sen. Cruz doesn't recognize that, then all he will be doing is helping to elect Hillary Clinton."
In an attempt to blunt Mr. Trump's momentum, Sen. Cruz took the unprecedented step to announce Carly Fiorina as his vice presidential running mate in the event he is nominated. No doubt, the 172 delegates up for grabs in The Golden State played a role in his decision. Mrs. Fiorina, the former Hewlett-Packard CEO and 2016 presidential candidate, previously called California home before she moved to the D.C. suburbs.
A new [content_tooltip id="37972″ title="SurveyUSA"] released on Monday finds the frontrunner with a whopping 34-point lead, 54% to 20%. The winner of the statewide vote in California is awarded 13 delegates, while the remaining 159 delegates are awarded to the plurality winner of the state's 53 congressional districts. The Hoosier State will award 57 delegates; 30 to the statewide winner and three in each of the state's nine congressional districts.