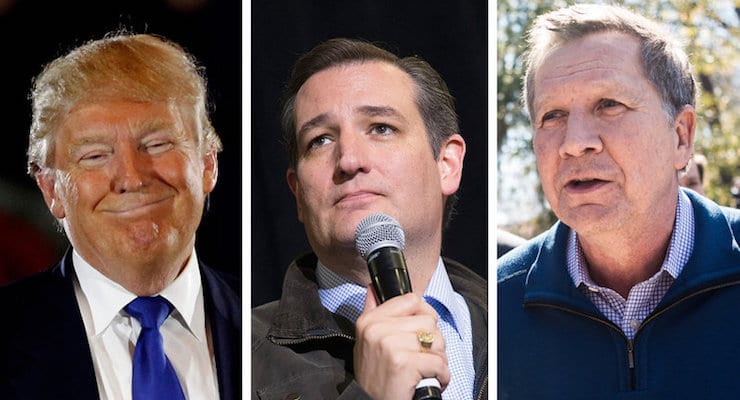 A new [content_tooltip id="39612″ title="Gravis Marketing"] finds Donald Trump leads Texas Sen. Ted Cruz in Indiana by 17 points, positioning the frontrunner for a big win on Tuesday. The survey by Gravis, a nonpartisan research firm, has Mr. Trump ahead 44% to 27%, which mirrors the results of other recent polls on the margin.
"Trump appears to have a solid lead in Indiana," said Doug Kaplan, the President of Gravis Marketing. "If he is able to pull off a win in Indiana, it will be hard to deny him the nomination."
The New York businessman leads on the PPD average of Indiana Republican Primary polls by 5.8%.
Worth noting, the polling average reflects what now appears to be an outlier showing him trailing his closest rival. The Gravis results are also in stark contrast to a IPFW/Mike Downs Center for Indiana Politics poll showing Sen. Cruz leading by 16 points. As PPD explained, the samples were not weighted, at all, and the interviews began on April 13. No information was provided for the results regarding the corresponding days, which makes it impossible to identify a trend in either direction.
Excluding the outlier, Mr. Trump leads Sen. Cruz by a significantly larger average margin of 41.3% to 32.4%.
Sen. Cruz, hoping to blunt some of the momentum coming off of a six-state losing streak, announced former Hewlett-Packard CEO Carly Fiorina as his vice presidential nominee. He also landed the endorsement of Indiana Gov. Mike Pence, who raised eyebrows by praising Mr. Trump beforehand.
Gov. Pence tried to firm up that endorsement in an op-ed Sunday, but it is becoming clear to Cruz campaign operatives that it didn't have the intended impact on the ground.
According to the Gravis Poll, nearly a fifth of the Republican primary electorate identifies as an independent, while nearly 8 in 10 say they are Republicans. Further, a whopping 71 describe themselves as either "very conservative" or "slightly conservative," both of which are blocs that Mr. Trump has been able to carry over Sen. Cruz. In primary contests to date, Sen. Cruz has only been able to consolidate the "very conservative" vote in the Great Plains states.
On Sunday, a separate [content_tooltip id="39829″ title="NBC/WSJ/Marist"] was released that found Mr. Trump leading Sen. Cruz in Indiana by 15 points, 49% to 34%. The results from both polls now confirm internal polling data obtained by PPD earlier this week.
"What we have seen between public and private polling is that Sen. Cruz has a low ceiling in the low 30s," said Richard Baris, PPD's senior political analyst. "The aggregate data doesn't suggest the same movement behind Sen. Cruz that we saw in Wisconsin."
There are 57 delegates up for grabs in the Indiana Republican Primary on Tuesday May 3. While it's not a must-win for Mr. Trump–though it would make his path significantly easier–it has become the last stand for Sen. Cruz and the anti-Trump forces.
"This is it. Game. Set. Match," said Baris. "That's the reality no matter what you hear from Mr. Cruz on Tuesday or even Wednesday morning. If Donald Trump beats the senator in Indiana on Tuesday, there are those previously loyal to the #NeverTrump movement that have told us it will be time to pack it in. If Sen. Cruz doesn't recognize that, then all he will be doing is helping to elect Hillary Clinton."
Gravis Marketing, a nonpartisan research firm, conducted a random survey of 379 likely Republican Primary voters in Indiana. The poll was conducted from April 28th to the 29th and has a margin of error of ± 5% at a 95% confidence level. The total may not round to 100% because of rounding. The polls were conducted using live telephone calls to landlines and mobile phone numbers of registered voters in Indiana and weighted by anticipated voting demographics.