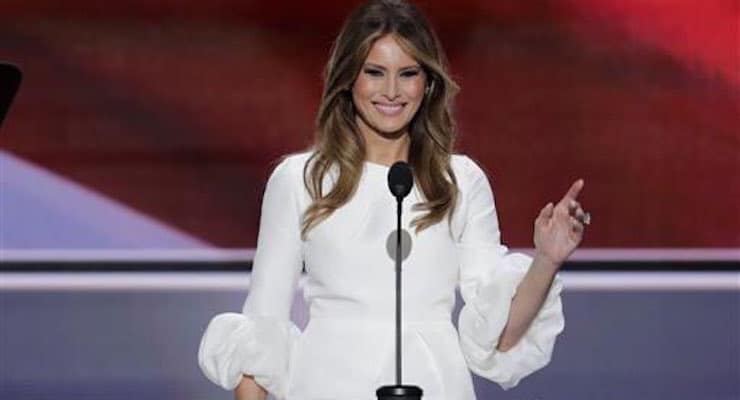 Melania Trump said during her speech at the Republican National Convention her husband would fight for the American people as president. The potential next First Lady of the United States praised her husband Donald Trump, calling him an "incredible leader" and the best candidate for president — "and it's not even close."
Opening an impassioned speech in support of her husband in Cleveland on Monday night, she thanked the delegates and supporters in the convention hall.
"You have all been very kind to Donald and me and our young son Baron and our whole family," she told the crowd at the Quicken Loans Arena. "We are excited to be with you at this historic convention. I am so proud of your choice for President of the United States, my husband, Donald J. Trump."
Melania Trump is a Slovene-American jewelry and watch designer, as well as a former model. But on Monday night, she commanded the convention stage and portrayed her husband in a manner few to no one else could do.
"I can assure you that he's moved by this great honor. This year started with many candidates — 17 to be exact — and they deserve respect. However, when it comes to my husband, I will say that I'm definitely biased and for good reason."
"I have been with him for 18 years. He never had an agenda when it comes to his patriotism. Like me, he loves this country."
Melania told the crowd that "from a young age," her parents instilled the values of "business, integrity and intelligence" in her.
"You must be willing to work for dreams."
"My husband is concerned for our country," she continued. "With all of my heart, I know he will make a great and lasting difference. If you want someone to fight for your country, he is the guy. He will never be bought. And most importantly, he will never let you down."
"Our country is underperforming and needs new leadership."