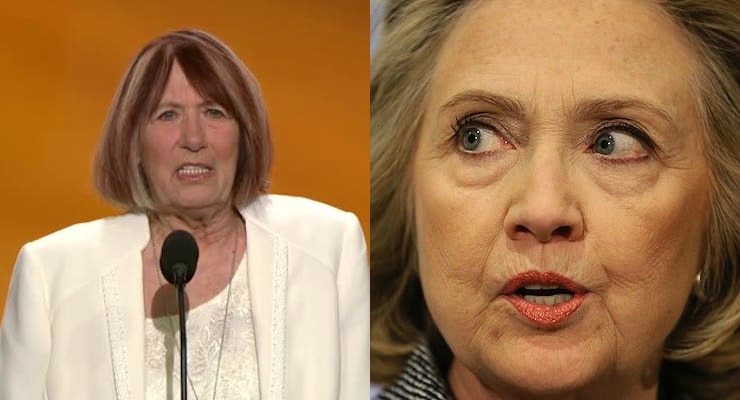 [brid video="55223″ player="2077″ title="Pat Smith "I Blame Hillary Clinton Personally for the Death of My Son""]
Pat Smith, the mother of Sean Smith, who was killed during the attack on the U.S. Consulate in Benghazi, shredded Hillary Clinton during a speech Monday night at the Republican National Convention.
"The night before the attack, he told me 'Mom, I am going to die. The security has been pulled,'" she said in an emotional speech at the Quicken Loans Arena Monday night. "For all of this loss, for all of this grieve, for all of the cynicism the tragedy in Benghazi has brought upon America I blame Hillary Clinton. I blame Hillary Clinton personally for the death of my son."
"She lied to me and then called me a liar," she said to a tearing up crowd, which drew loud boos.
On September 11, 2012, just a few short weeks before the presidential election, Smith and three other Americans–U.S. Ambassador Christopher Stevens, former Navy Seals Tyrone Woods and Glen Doherty–were murdered in what then-Secretary Clinton knew at the time to be an Islamic terror attack.
As People's Pundit Daily has repeatedly reported, Mrs. Clinton lied to Pat Smith and the father of another victim, Tyrone Woods, right to their face at Andrews Air Base a few short days after the attack. Then, she accused them of lying and, when gently pressed during an interview with her sycophant George Stephanopoulos, Mrs. Clinton said she did not lie to the families of the Benghazi victims but instead was caught up in "the fog of war."
"This has been a difficult week for the State Department and for our country," she said at Andrews Air Force Base on Sept. 14, 2012. "We've seen the heavy assault on our post in Benghazi that took the lives of those brave men. We've seen rage and violence directed at American embassies over an awful internet video that we had nothing to do with. It is hard for the American people to make sense of that because. it is senseless, and it is totally unacceptable."
The report released by the House Select Committee on Benghazi confirmed PPD's previous reporting. During a press conference held by the Republican members of the committee on June 28, Rep. Jim Jordan, R-Ohio, flat-out said Mrs. Clinton–now the presumptive Democratic nominee–deliberately misled the public. While explaining his view of what happened leading up to, during and after the night of the attack, Rep. Jordan explained how Mrs. Clinton knew the YouTube story was a fabrication.
"At 10:08 that night with Tyrone Woods still on the roof of the annex fighting for his life, Secretary Clinton issues this statement; the official statement on Benghazi; the official statement of our government," Rep. Jordan said. "'Some have sought to justify this vicious behavior as a response to this inflammatory material on the Internet.' We know that statement was misleading because an hour later she told her daughter 'terrorists killed two of our people today'."
Worth noting, a recent Rasmussen Reports survey found nearly half (49%) of likely voters believe Mrs. Clinton lied to the Benghazi victims' families. The poll was conducted after the House Select Committee on Benghazi released its final report last week.