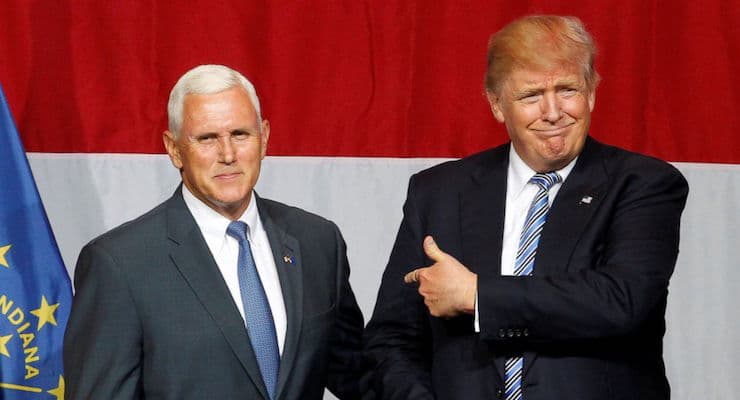 Donald Trump denied reports that he was wavering on his decision to name Indiana Gov. Mike Pence as his vice presidential running mate. He also acknowledged that he and Gov. Pence have different styles, and that he doesn't necessarily expect him to use the same tactics that were used throughout the campaign.
In an interview Monday morning on Fox and Friends, he called the media reports "totally dishonest" and revealed his effort to correct the record that went ignored by The New York Times and others. The morning interview comes as Mr. Trump and his running mate appeared on CBS News on Sunday.
"We're different people, I understand that," Trump said in a preview of a 60 Minutes interview that the 2016 Republican ticket did together. "He won't [call Clinton that name], I didn't ask him to do it but I don't think he should do it because its different for him."
Trump used the example of how he calls Hillary Clinton "Crooked Hillary" as something that he doesn't expect or want his right-hand man to do.
Gov. Pence didn't take the bait when asked about the tone of Trump's campaign.
"I think this is a good man who's been talking about the issues the American people care about," he said. "This campaign and Donald Trump's candidacy has been about the issues the American people care about. They see America in decline at home and abroad, they see our porous borders, a Congress that's unable to balance its budgets or deal with and end illegal immigration. They want a leader, they want leadership in Washington, D.C., that will solve problems and strengthen our country."
Trump also reiterated during the interview that part of the reason why he picked Gov. Pence as his running mate was in an effort to unify the party.
The New York businessman chose Gov. Pence over former Speaker of the House Newt Gingrich, former military intelligence head Lt Gen. Michael Flynn and New Jersey Gov. Chris Christie, all of whom were in the top contention for the vice presidential nomination, in order to unify the Republican Party. While other reports suggested this is the first time Trump made that clear himself, it wasn't. He said unity was a major factor during his press conference announcing his decision on Saturday.
[brid video="54941″ player="2077″ title="Donald Trump Announces Mike Pence as Vice Presidential Candidate (71616)"]