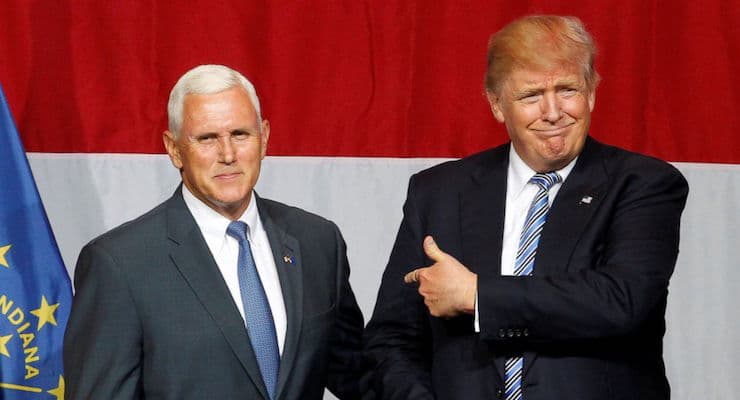 Republican congressional leaders and former critics praised Donald Trump's decision to pick Indiana Gov. Mike Pence as his vice presidential running mate. The announcement came late Friday morning and Mr. Trump on Thursday postponed his news conference to introduce his VP because of the terrorist attack in Nice, France, which left at least 84 dead.
House Speaker Paul Ryan, R-Wis., an early vocal critic of the Republican presidential nominee, issued the following statement on the announcement.
"Mike Pence comes from the heart of the conservative movement — and the heart of America," Speaker Ryan said. "I can think of no better choice for our vice-presidential candidate."
Speaker Ryan, a close and personal friend to Gov. Pence for years, was slow to endorse Mr. Trump even after it became clear he locked up the party's nomination. The two met in private multiple times in an effort to iron-out their differences on trade, immigration and tone. Mr. Trump advocates strongly in favor of "fair trade" and against the Trans-Pacific Partnership, a free trade deal Speaker Ryan and his allies support. The New York businessman scored major victories by eliminating TPP from the draft Republican Party platform and other immigration policies.
"We need someone who is steady and secure in his principles, someone who can cut through the noise and make a compelling case for conservatism," Speaker Ryan said. "Mike Pence is that man."
Senate Majority Leader Mitch McConnell, R-Kty., also released a statement following the announcement.
"Today, Donald Trump made a smart decision by selecting Governor Mike Pence to be his Vice Presidential running mate," McConnell said. "Donald Trump and Mike Pence can lead our nation in a new direction and begin to correct the mistakes and mismanagement they will inherit from the Obama Administration. Pence is a principled conservative, man of faith, and talented messenger for Republican ideas. Mike's leadership in Indiana and Congress make him more than ready for the position of Vice President."
The Club for Growth PAC, which spent millions of dollars of ads attacking Mr. Trump during the Republican primary, released a statement that indicated the vice-presidential nominee gives them greater enthusiasm for the Republican ticket.
"Mike Pence would be an outstanding Vice-President," said Club for Growth President David McIntosh. "I've been privileged to call Mike a friend for more than 20 years, and members of the Club for Growth have been cheering his principled stands for economic conservatism since he came to Congress. Mike was a leader on Capitol Hill against bailouts, Obamacare, and tax hikes. He has been a strong supporter of free trade agreements, and he stood up to his own party's leadership against the expansion of the entitlement state."
After failing to stop Mr. Trump in various states, to include Indiana, the Club for Growth even took the unprecedented step to endorse Texas Sen. Ted Cruz, marking the first of its kind ever in the group's history.
"The Club supported Mike Pence's nomination as Republican Conference Chairman because we knew that he would be a strong voice for free markets and economic liberty among a House leadership team that was too prone to be weak on those issues," Mr. McIntosh added. "And today's news gives a similar hope that Mike Pence will be effective in pulling the Republican ticket toward economic conservatism and limited government."
The campaign was up against a hard deadline to make the announcement. Due to Indiana state law, Gov. Pence could not run for reelection and the vice presidency at the same time and had until noon on Friday to make the decision. PPD's senior political analyst Richard Baris said the pick serves as a hat tip to both conservatives and party leadership. He also said it gives political analysts a peek into the Trump Campaign's strategy.
"The choice is a clear indication that the Trump campaign understands his path of victory runs straight through Rust Belt America," Baris said. "He is already running way ahead of both Mitt Romney and John McCain in states such as Pennsylvania, Ohio and Iowa. Gov. Mike Pence is the governor of a once-competitive must-win Rust Belt state, who also has considerable experience on Capitol Hill and as an executive."
With growing party solidarity, Mr. Trump has reversed his decline in the polls and now leads Hillary Clinton in the key battleground states of Iowa, Pennsylvania and Florida. He is roughly tied in Ohio, leading within the margin of error. The latest national tracking poll conducted by Rasmussen Reports finds Mr. Trump ahead by 7 points.
"His addition to the ticket will bring even more excitement to the voters who are eager to put a Republican in the White House and deny a third term for President Obama's liberal agenda." McConnell added. "Our nation needs new leadership, and I'm confident Trump and Pence can provide it."