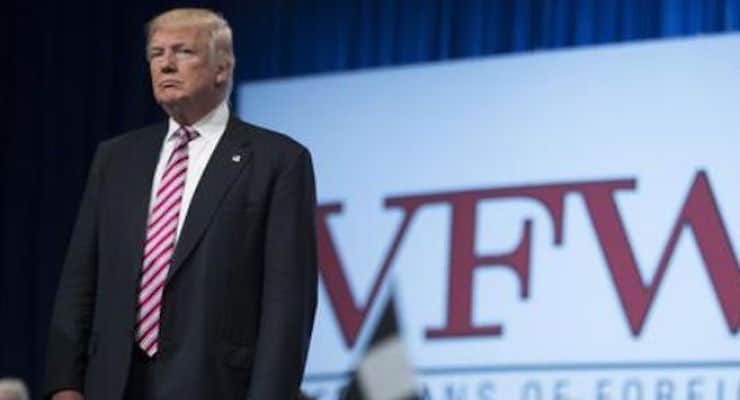 Republican presidential candidate Donald Trump outlined his 10-point plan during a speech to the Veterans of Foreign Wars convention in Charlotte, N.C. The plan, which includes asking Congress to approve new powers allowing the secretary to fire the untouchables, was widely praised and the candidate enjoyed far more enthusiastic support among the nation's veterans than his Democratic rival, who spoke to the group on Monday.
"Our debt to [veterans] is eternal," Mr. Trump told a widely supportive crowd. "Yet our politicians have totally failed you. Our most basic commitment, to provide health and medical care to veterans, has been violated completely."
The 10-point plan also includes installing a live-caller hotline in the White House to field veterans' complaints, eliminating waste and abuse in the VA budget and significantly increasing health care options for all patients.
"The VA scandals that have occurred are widespread and totally inexcusable. Many have died waiting for care that never came, a permanent stain on our government," Mr. Trump said. "Government is going to start working for the people again."
Trump's speech to the VFW convention comes less than 24 hours after Mrs. Clinton spoke at the same event and less than a hour after VA Secretary Bob McDonald addressed the crowd, both of whom offered veterans a very different view of the state of the VA and veteran care across the nation. They characterized the Veterans Administration as a troubled agency in the past that is now being reformed.
Mrs. Clinton's message built upon her prior statements that the VA isn't as bad as the media and inspector general reports indicate. But veterans didn't believe their lying eyes and praised Mr. Trump when he called it a disaster.
"When I get in the White House, you'll see a change in VA and the whole of the government system, which is a mess," he said. "A change in attitude and a change in results will absolutely take place so fast."
Mr. Trump, unlike Mrs. Clinton, also spent most of his speech on Tuesday talking about the veterans, not his rival. In her speech on Monday, Mrs. Clinton repeatedly attacked Mr. Trump in front of a crowd rolling their eyes, while the Republican nominee attacked the "rigged system" and the nay-sayers in the media and political establishments.
"We can't fix a rigged system by electing the people who rigged it in the first place," Mr. Trump added. "Let's reject the doubters and cynics, and choose again to believe in ourselves."
Trump's Ten-Point Plan to Fix the Veterans Administration (VA)
One: I will appoint a Secretary of Veterans Affairs who will make it their personal mission to clean up the VA.
Two: I am going to use every lawful authority to remove and discipline federal employees or managers who breach the public trust.
Three: I will ask Congress to pass a bill giving the VA Secretary full authority to remove or discipline any employee who risks the health, safety, or well-being of a veteran.
Four: I will appoint a commission to investigate all the wrongdoing at the VA, and then present those findings to Congress as the basis for reforming the entire system.
Five: I am going to make sure that honest and dedicated people in the VA have their jobs protected, and are put in line for promotions.
Six: I will create a private White House Hotline – that is answered by a real person 24 hours a day – to make sure that no valid complaint about the VA ever falls through the cracks. I will instruct my staff that if a valid complaint is not acted upon, then the issue be brought directly to me, and I will pick up the phone and fix it myself, if need be.
Seven: 4 Instead of giving bonuses to employees for wasting money, we are going to create a new incentives program that rewards employees for saving money and improving the quality of care.
Eight: Our visa programs will be reformed to ensure that veterans are put in the front of the line for jobs in the country they fought to protect.
Nine: We are going to increase the number of mental health care professionals, and increase mental health outreach to veterans outside of the system.
Ten: We are going to ensure every veteran in America gets timely access to top-quality care, including the best care in the world for our female veterans.