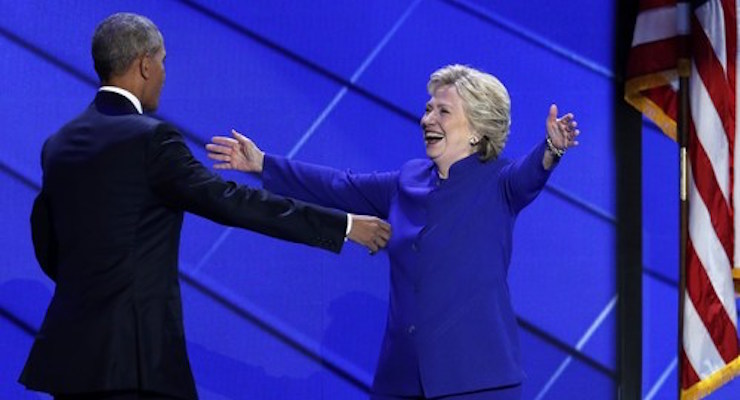 President Barack Obama took tot he stage Wednesday night to return the favor to the Clintons, who helped him get elected twice. The Democratic president tried to thread the needle between understanding Americans are still hurting and touting his record as a two-term.
It was a difficult job, but the content of the Obama speech in Philadelphia was both unprecedented and telling. All three speakers–Vice President Joe Biden, VP nominee Sen. Tim Kaine and President Obama–all went on the attack against Republican nominee Donald Trump, with the latter saying he is only offering "slogans" and "fear." Never before has a sitting U.S. president attacked the other party's nominee on the level Mr. Obama did in his speech, revealing that the man he once mocked is now being thought of as a serious threat.
In fact, People's Pundit Daily confirmed and reported on Wednesday that the president has asked his staff to clear his schedule in the month of October so that he could campaign for Mrs. Clinton, non-stop. The party will also dispatch Mr. Biden to his native state of Pennsylvania to wrest the lead back from Mr. Trump, who leads in internal polls in a state Republicans haven't carried since 1988.
To be clear, Mr. Obama gave a very impressive speech, as usual. But his words and their actions confirm to me what I'm seeing in the polling numbers; Trump's lead over Clinton is real and they're very concerned.