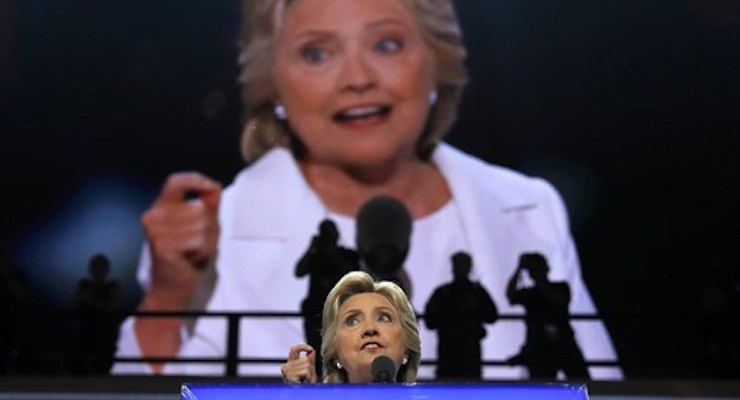 With "boundless confidence and determination," Hillary Clinton accepted the Democratic nomination amid protests inside and outside the convention. "And so it is with humility, determination and boundless confidence in America's promise — that I accept your nomination for President of the United States," she said.
Protesters and delegates began walking out, with WikiLeaks banners held up and heckles coming from near the California delegation.
While her supporters were drowning out the remaining anti-Hillary delegates who didn't have their credential revoked by the DNC with chants of "Hillary," the first woman ever to secure a major party's nomination for president still hasn't won over a large wing of her party amid an embarrassing scandal that caused a political uproar ahead of the convention in Philadelphia.
"I get it. Some people just don't know what to make of me," she said to an instant backlash of boos and heckles.
Wikileaks banner spotted in the crowd #DemConvention pic.twitter.com/I4Avo0FYky

— Cristina Corbin (@CristinaCorbin) July 29, 2016
Mrs. Clinton, the former secretary of state, even tried to thank Sen. Bernie Sanders and call for unity from his supporters.
"Bernie, your campaign inspired millions of Americans, particularly the young people who threw their hearts and souls into our primary. You've put economic and social justice issues front and center, where they belong," she said. "And to all of your supporters here and around the country: I want you to know, I've heard you. Your cause is our cause."
However, it was those very supporters who were mocked and criticized by top officials in emails leaked by the anti-secrecy group WikiLeaks. The group promises more to come, but Mrs. Clinton tried to turn the night's attention to her Republican rival Donald Trump.
"Imagine him in the Oval Office facing a real crisis. A man you can bait with a tweet is not a man we can trust with nuclear weapons," she said. "America's strength doesn't come from lashing out."
The speech was also heavy on platitudes, not policy.
"Tonight, we've reached a milestone in our nation's march toward a more perfect union: the first time that a major party has nominated a woman for President. Standing here as my mother's daughter, and my daughter's mother, I'm so happy this day has come. Happy for grandmothers and little girls and everyone in between," she said. "Happy for boys and men, too – because when any barrier falls in America, for anyone, it clears the way for everyone. After all, when there are no ceilings, the sky's the limit."
Meanwhile, outside the Wells Fargo Center, Haitians took to the streets to protest Bill and Hillary Clinton and the Clinton Foundation's actions in the wake of the 2010 cataclysmic earthquake in their nation.
"The main message is that Hillary Clinton belongs in jail," one protester said. "We believe that the world should know about the crimes the Clinton family has committed against the country of Haiti–the money they have stolen from the earthquake victims. And we believe that were this to be anyone else, they'd be in jail right now."
"She's not in jail because she's being protected by the Obama administration, the Justice Department, State Department," the man said.
[brid video="56497″ player="2077″ title="Haitian Immigrants at DNC "Wake Up! Hillary Belongs in Jail!""]