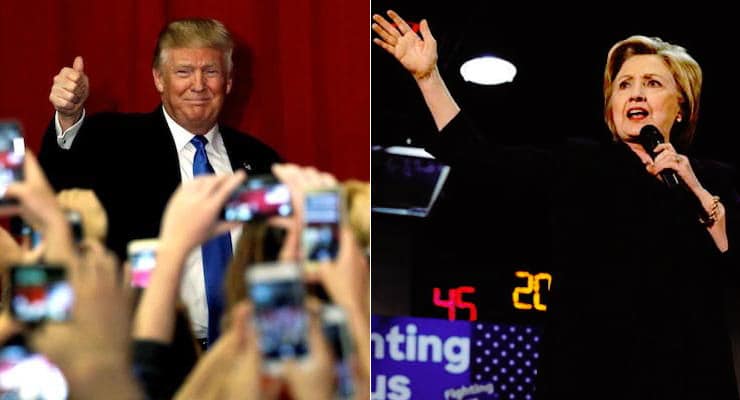 Donald Trump and Hillary Clinton faced tough questions on Sunday as the two presidential candidates made their Sunday show rounds. Mr. Trump on Sunday during an interview with George Stephanopoulos continued to discuss his scuff up with Khizr Khan, the father of a Muslim soldier who died in the line of duty.
Captain Humayun Khan, was killed by a car bomb in 2004 while guarding a base in Iraq.
Mr. Trump called Captain Khan a hero and tried to point out the double-standard for Mrs. Clinton in the media relating to the families of the victims in Benghazi. Still, the comments prompted House Speaker Paul Ryan, R-Wis., who is engaged in a more competitive than expected primary race in his district, to release a statement again condemning his party nominee's proposal to place a temporary ban on immigration from nations plagued by Islamic extremism.
[brid video="56925″ player="2077″ title="FULL INTERVIEW Donald Trump On ABC News This Week 73116″]
"I thought this entire weekend was just a disaster for Donald Trump," Joe Scarborough said Monday on the "Morning Joe" panel on MSNBC. "An absolute disaster and then I saw Hillary Clinton on FOX News Sunday saying I never transmitted any classified material. You sat there going who is talking to her. Both of these candidates had horrible performances on the Sunday shows."
Mrs. Clinton further went on to continue to lie about her use of a private email server during her tenure at the State Department, claiming FBI Director James Comey concluded her previous statements were consistent with the Bureau's findings.
"Director Comey said my answers were truthful, and what I've said is consistent with what I have told the American people, that there were decisions discussed and made to classify retroactively certain of the emails," Mrs. Clinton said. "I was communicating with over 300 people in my e-mailing. They certainly did not believe and had no reason to believe that what they were sending was classified."
That in fact is not what happened.
Mr. Comey, during his press conference and subsequent testimony at a hearing with the House Oversight and Government Reform Committee, made it a point to run down a litany of statements made by Mrs. Clinton that were flatly untrue, including the claim she never sent or receive classified information.
Instead of allowing the bad press coverage of Mr. Trump to continue, Mrs. Clinton continued to step all over herself trying to explain "reasonable" gun control laws to "Fox News Channel" host Chris Wallace.
"Well, I think what the court said about there being an individual right is in line with constitutional thinking. And I said in the convention, I'm not looking to repeal the second amendment," she said. "But that right like every other of our rights, our First Amendment rights, every right that we have is open to and even subject to reasonable regulations."