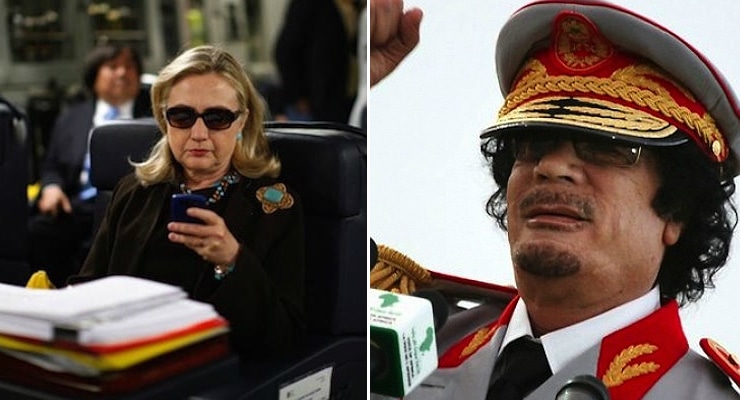 On Monday, U.S. planes began bombing Islamic State (ISIS) targets in Libya, a nation once touted by Hillary Clinton as a major foreign policy achievement. The U.S. bombing campaign is a response to the U.N.-backed government's request to aid in driving the militants from Sirte in what U.S. Pentagon officials confirmed will be a sustained airstrikes campaign against the ISIS in the city.
"The first air strikes were carried out at specific locations in Sirte today causing severe losses to enemy ranks," Prime Minster Fayez Seraj said on state TV. Pentagon spokesman Peter Cook said the strikes did not have "an end point at this particular moment in time".
The Islamic militant group has spread rapidly through the country once run by the former Libyan dictator Col. Moammar Gadhafi, who previously relinquished his nuclear weapons program to President George W. Bush and cooperated in the U.S. war on terror in exchange for humanitarian aide. Judge Andrew Napolitano said after the release of the 800-plus page report by the House Select Committee on Benghazi that there "is ample evidence to support their argument that Benghazi was the unintended consequence of Clinton's private war against Libyan strongman Col. Moammar Gadhafi."
"It was supposed to be the crown jewel of Clinton's foreign policy stewardship — ousting the dictator, replacing him with a democracy, putting no American boots on the ground and avoiding American bloodshed," the judge said.
Indeed, emails obtained by the anti-secrecy group WikiLeaks, which were previously reported by People's Pundit Daily, clearly show Clinton's inner circle at the State Department were crafting the Libyan story in the political context to use to boost Mrs. Clinton's foreign policy credentials.
"Colonel Qadhafi and those around him must be held accountable for these acts, which violate international legal obligations and common decency. Through their actions, they have lost the legitimacy to govern," Mrs. Clinton said in Geneva, Switzerland on February 28, 2011. "And the people of Libya have made themselves clear: It is time for Qadhafi to go — now, without further violence or delay."
That statement, along with a list of several others, was included in an email sent by State Department employee and Clinton aide Jake Sullivan on August 21, 2011 praising the secretary's "leadership/ownership/stewardship of this country's libya policy from start to finish [sic]."
To be sure, lawmakers were complicit in Clinton's Libya agenda. In late June, Clinton met "with House Democrats and Senate Republicans to persuade them not to de-fund the Libya operation," the emails read, referring to the arming and funding of groups that are now openly hostile to the pro-Western forces and America.
Meanwhile, militants loyal with Prime Minster Seraj have been battling Islamic State in Sirte, which is the home town of former dictator Muammar Gaddafi. Without the dictator, who like it or not acted as a stabilizing force in the region and the nation, ISIS militants seized the Mediterranean coastal city last year, making it their second biggest stronghold and strategically important base outside Syria and Iraq.
The White House said in a statement that the U.S. assistance to Libya would be limited to air strikes and information sharing.