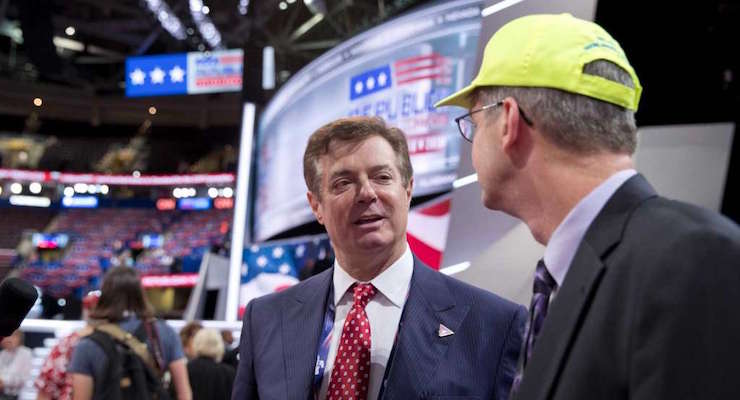 As a journalist and writer I have spent a great deal of time in Kiev, Ukraine.
Last fall, I was introduced to Artem Sytnyk, the head of the National Anti-corruption Bureau of Ukraine (NABU). Mr. Sytnyk is the former chief investigator of the Kiev Oblast. I spent an hour in person with his team as the organization was being organized and was hiring its first 70 detectives.
I found the group to be professional, dedicated, brave and somewhat idealistic. I was invited back at some point in the future to do a follow-up visit that is yet to be scheduled. I also met with the new detective training team in Kiev that is responsible for working with NABU to prosecute officials found to be corrupt.
It is with this background that I read yesterday The New York Times story on Paul Manafort, Republican presidential nominee Donald Trump's campaign manager, being "named" in a corruption probe in Kiev by Mr. Sytnyk's office. I contacted several people there, including press secretary Svitlana Olivera, and what I found out was shocking to say the least.
Officials did confirm they are investigating documents provided to them in May of this year which concerned millions of dollars in illegal cash payments made by the regime of ousted President Viktor Yanukovych, a Manafort client. These documents were provided to detectives of NABU from a Ukrainian member of parliament who acquired them from a "source."
Shockingly, the document published by the New York Times, which showed the page of a ledger allegedly detailing black payments, were not part of these original documents provided. The document used by the Times to validate the story was apparently provided to NABU at the same time it was 'provided' to the newspaper.
NABU confirmed they could not verify the authenticity of the document published by The New York Times. In other words, it is possible this document was manufactured to support the story.
The bureau is investigating this document, as well.
The timing and the circumstances of this document release is suspect, coming just months before the U.S. president election. With the history of The New York Times in publishing unsubstantiated hit stories against Mr. Trump, this document should be subject to scrutiny and held in suspicion.
The agenda of the paper and its feud with the Trump campaign are well documented.
I am not saying corruption is not rampant in Ukraine, I am saying the evidence supposedly implicating Mr. Manafort is extremely suspect and to date not remotely persuasive.
(Watch L. Todd Wood break this side of the story on Newsmax: around 4:40 seconds in)
(This story first appeared in The Washington Times)
[mybooktable book="motherland" display="summary" buybutton_shadowbox="true"]